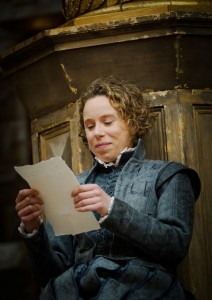 One thing you can guarantee should you choose to partake in any type of outdoor activity over a British Bank Holiday weekend – it will rain. FACT. But such are the peculiarities of our climate that it's also very possible that a grey, relentless, soaking drizel can stop completely during the time it takes you to wander through the Shakespeare's Globe foyer, buy a poncho & take your place as a Groundling in the yard for the afternoon. And so it proved for a select band of HDC members for Saturday's sell-out performance of 'As You Like It'.
There's something really special about the Globe – a combination of it's fabulous location overlooking the Thames, the unique look and feel of the theatre itself, the smell of ale & barbeque that wafts over from the bar and the warm & friendly welcome afforded by the staff – far less informal than you'd expect from a London theatre. This uniqueness can also be felt amongst the audience – if you can bear to stand for the duration of a play then buy a £5 'groundling' ticket – it's how plays at the Globe should be experienced and gives you the best view of the action.
This was my fourth production at the Globe – I've yet to see a bad one. In fact, they have all been excellent. 'As You Like It' was no exception. It's not my favourite Shakespeare – the play takes a long time to resolve itself in the second half as seemingly endless pastoral characters are being paired off. Touchstone is a difficult part to get right (as arguably are all Shakespeare's clowns) but Daniel Crossley plays it enjoyably straight. It also features one of the Bard's greatest speeches and James Garnon as a low-key Jacques delivers it with freshness & clarity. As ever at the Globe, the whole cast perform with an energy & vitality that is a marvel to watch and fills this huge open space – no mean feat, as anyone who has ever acted in an open air space will know.
Michelle Terry is outstanding as Rosalind – a firecracker of a performance made all the more impressive in the knowledge that this would be the first of two performances she would give that day. Her mastery of the language, vocal power & control and combination of verbal wit & physical comedy were a wonder to behold. But plays at the Globe are never about 'star turns' – they are company shows in every sense. Even Jonathan Pryce  as Shylock in this season's (also excellent) 'Merchant Of Venice' comes across as another member of the troupe, not an expensive star addition to the billing. Throw in a wrestling match (with the fight instructor replacing an injured actor at the last minute) and Touchstone leading the funniest dance routine I've ever seen in a classical play and the 3 hours of 'As You Like It' whizzed by.
As is becoming traditional, we retreated after the show to the nearby Porky's BBQ for dinner & drinks before heading back to Huntingdon & home. Our next theatre outing is planned for July – Alan Bennett's 'The History Boys' at the Cambridge Arts Theatre. It's a really good way to get out and see more theatre and so much nicer (and invariably cheaper!) to go with a group of like-minded folk, so do try & join us next time. Watch this space for details!