When it comes to theatre, be it acting, directing or working behind the scenes – you never stop learning. And I love the opportunity to learn more, especially from professionals working in the industry right now. And so a Directing Studio at Shakespeare's Globe over a weekend in May sounded too good to miss! Located on London's Bankside (which can you now reach by train directly from Huntingdon to Blackfriars – assuming the trains aren't cancelled) the Globe has become an increasingly important centre for theatre in London since it opened in 1997. Seeing several productions at the Globe in the last few years (Henry V, As You Like It, The Merchant of Venice, Doctor Scroggy's War) I was struck by the unique atmosphere. Standing in the yard as a groundling literally inches from the stage watching Jonathan Pryce as Shylock or Jamie Parker urging us once more unto the breach as King Henry for just £5 is not only the sale of the century but also the most exciting way I've seen Shakespeare performed.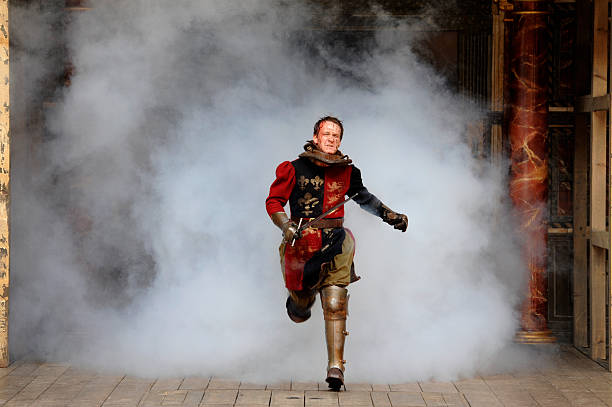 Having somehow persuaded the Shakespeare at The George trustees to allow me to direct A Midsummer Night's Dream for their 60th anniversary production in 2019, this Directing Studio was perfect for me – I haven't directed any Shakespeare for a number of years and was eager to be as well-equipped as possible for the first get-together and rehearsals with the cast. What I was eager to discover was how the Globe infuses it's productions with such vitality and energy, engaging the audience to come along for the ride – several hundred of whom will be on their feet for the 2 to 3 hour running time.
Day One
We started on Saturday morning with introductions from our course leader Craig who gave us an overview of the two days before we launched straight into the first session – An Actor's Perspective with director and actor Phillip Bird. Using a scene from The Tempest we had the opportunity to deliver a few lines on the stage of the beautiful Sam Wanamaker Playhouse, the Globe's indoor venue. Here the challenge is the same as in the far larger main venue next door – the audience are all around you – above, below, to your left and to your right. How do the actors manage to engage all sections of the audience? One way (which I tried hard to use in Richard III) is to be very specific with your delivery – to point lines to different members of the audience, to engage them with eye contact and make them feel involved – as if you are talking directly to them. It reassures the audience that, no matter where they are watching the action from, they will be involved. As an audience member watching an actor who stares somewhere into the middle distance, directing their lines to nobody in particular, it's easy to become disengaged and lose interest.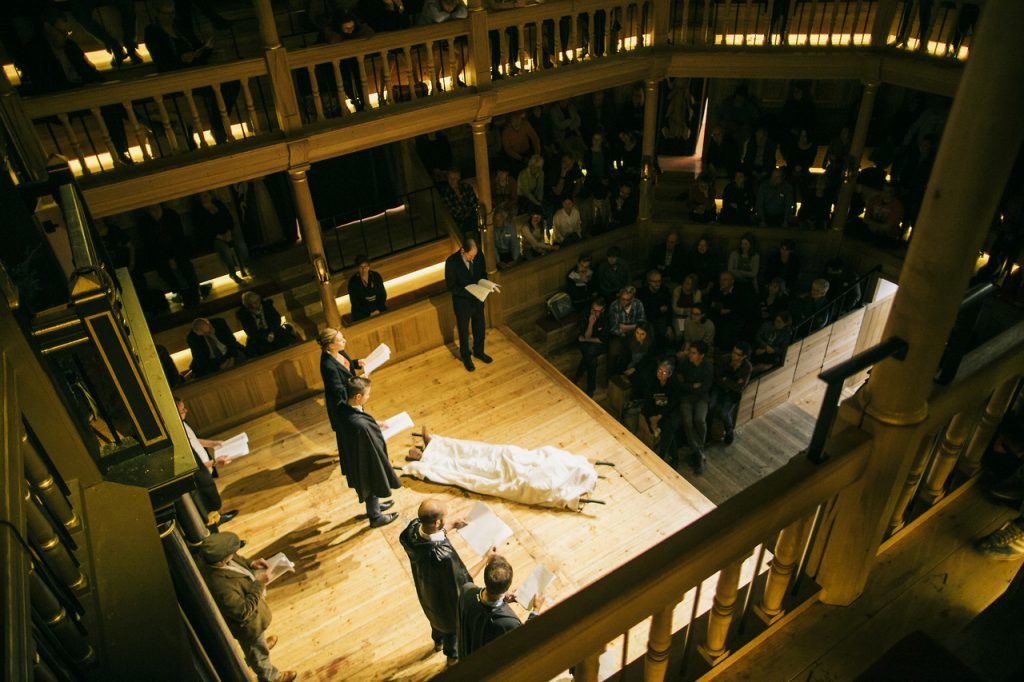 Moving across the road to the Globe's wonderful rehearsal studios, director Rob Swain took us through session two – A Director Prepares, which I found invaluable and could've easily spent a whole day on! Rob starts with what he calls 'the clean read'. He opens the text and reads the play straight through from start to end, with no note taking or mental analysis – to make the play fresh in the mind of the director and erasing (if possible) previous readings or viewings. Then he starts to ask questions – anything that springs to mind. It could be "why does a bear suddenly appear?" or "have Hamlet and Ophelia consummated their relationship?" And after this first 'clean' read – note down your reactions and questions. Importantly – think about what your audience will NOT understand and start to think about how to solve those problems.
Rob talked about the 'three worlds' of the play; The First World – the time and place in which the play is written. The Second World – the world in which the play is set and the significance that brings to the story. And finally, The Third World – the world in which we live, and how the play engages with our audience. He encouraged us not to 'impose' upon the play but to have an on-going dialogue with it. Don't worry about 'concepts' or 'making it relevant' but instead to be true to the play and in doing so 'releasing it's relevance' to the audience.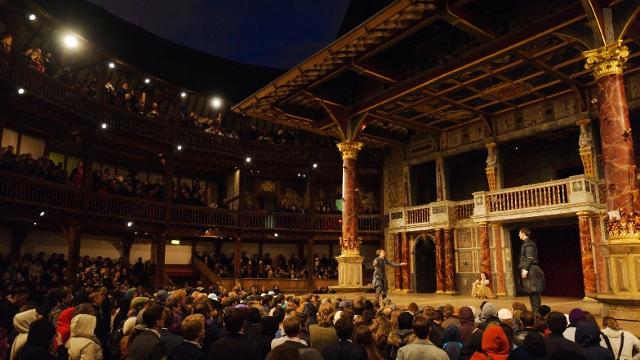 Research is an important part of the directing process and this was broken down into three different types; Imaginative Research– what does the play say to me? Why should I do it? What is the play actually ABOUT? What actually HAPPENS during the play? What is trying to do to the audience? (This could be as broad as, with a comedy, 'make the audience laugh'). Factual Research– are there different versions of the play? How do they differ? Why are certain passages in prose? (Very relevant to the Mechanical scenes in A Midsummer Night's Dream). Why are certain lines longer or shorter than others? Historical Research– the place & time in which the play is set. How does this influence the story?
We also discussed the internal architecture of the play and the difference between 'dramatic' and 'real' credibility. How does the play deal with the distance between places and the time-span of the action? Pericles, for example, takes place over a course of some years, whereas A Midsummer Night's Dream happens in one day. Decisions made in the play by characters have a ripple effect on the story – if Lysander and Hermia hadn't run away from the court then Demetrius & Helena would never have fallen in love. Above all Rob encouraged us not to be too 'well-learned' at this stage but to allow a 'creative mess of ideas'. By the time rehearsals begin, the director should be able to give the actors enough to think about that they will come back with their own questions and suggestions.
The third and final session on day one was again with Phillip and drilled down into the text of classical theatre. Line lengths, verse versus prose, pauses, etc. He urged us to look at the direction of scenes – who's chasing? Who's running? What does the character want from the scene? What are they trying to get from the other character(s)? I was reminded of a tip from a book by the American director Harold Clurman where he talked about 'the nice and the nasty' and how it relates to movement or blocking in a scene. When characters say nice things to each other they tend to move towards each other. When they say nasty things they tend to move apart. Quite simple but effective!
Day Two
Returning on Sunday morning we started with a movement session led by Simone Coxall – a director and movement specialist who has worked extensively in the UK, USA & Australia and also teaches at the Fourth Monkey Actor Training Company. A good movement session can really open actors up and free them from the trappings of their own mental and physical habits. It's a discipline I used to wrestle with at drama school (having two left feet and being a big fan of lying down) but I've come to embrace as an incredibly useful way to work through problems in rehearsal or on difficult scenes. (A Laban movement session at a Donmar Theatre workshop was invaluable during rehearsals for The Madness of George III– finding a different physicality for the 'mad' scenes). It's not dance and the two shouldn't be confused. It deals a lot with tempo – changing your inner and outer tempos and seeing how combining, for example a fast inner tempo with a calm, slow outer tempo can give an actor a unique physical place to work from. Very often in rehearsal we see that the tempo an actor brings with them when they arrive at the first rehearsal (their own tempo) will soon become the characters tempo which in turn dictates the pace at which they move around the stage & deliver all their lines. In life, our bodies are attuned to react in different situations – to laugh if we're amused, to run away from danger. In rehearsal we need to unlock that in the actors body. It's interesting, rewarding and something which the cast of A Midsummer Night's Dreamwill benefit from. Simone has agreed in principle to come down to Huntingdon and run a session with us!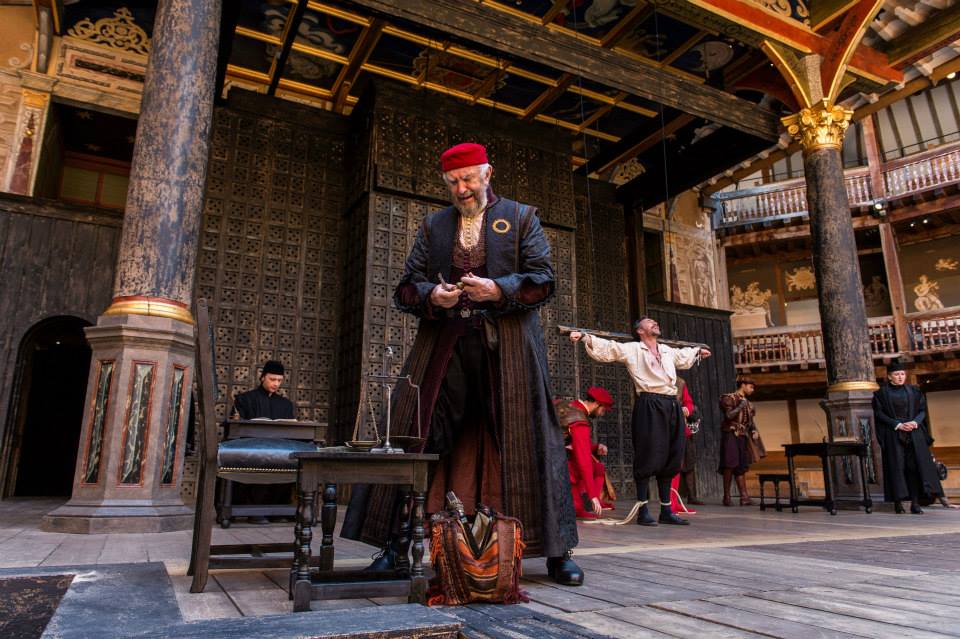 Next up we were back in the Playhouse with Yvonne Morley for a session on voice. Yvonne was head of voice at LAMDA as well as being an associate of the National and Globe theatres. She has also recently been working on a project to create a 'voice profile' for Richard III, which you can learn more about here. Yvonne began by telling us the three things she requires from actors – (1) that you can be heard, (2) that you can be understood and (3) that the audience believes you. If any of those three elements are missing then we don't have a real, full performance. Yvonne took us through an invigorating and energising vocal warm-up, before running us through a number of exercises focussed on breath, tone and pitch. It's a lovely feeling as an actor when you've had a great warm-up and the voice is really resonating! On the playhouse stage we added exaggerated movements to the lines of a children's story, to see how the body can combine with the voice. Another very useful exercise helped us to maintain the energy through to the very end of a line – avoiding the pitfall that actors fall into where they tail off at the end of a li…
We reconvened at the rehearsal studios for a final session with director Rob Swain – essentially a Q&A and feedback on the course. I was loaded with questions for Rob & probably asked three times as many as anyone else! So, what did I learn that I can take forward into A Midsummer Night's Dream next year? Well, as Rob neatly put it, "if it's outside then it needs to be bigger, bolder, louder & brighter. And invite them to bring food & booze and make it a party atmosphere!" The voice and movement sessions will help my cast to be heard and understood and hopefully to move more freely and with intention. The text work we did will enable me to guide the actors through their lines, helping to understand and to mine the lines for clues on story and motivation. You can never know it all and that's why theatre-making is most rewarding when it's a truly collaborative exercise – the cast, crew & director all driving towards the same goal – to create the best production they can.
Thank you once again to the Trustees of SaTG for this wonderful opportunity & I look forward to putting all of this and more into practise for next year's anniversary production!
Dean Laccohee, Artistic Director