It's a common story – as soon as schools endure budget squeezes, it's the creative arts subjects that get the cuts, and in some cases, are removed altogether. I'm not one to judge educational authorities too harshly for this; when money is tight, changes need to be made – and certainly the core subjects of English, Mathematics and Science must be given particular importance.
That said, I feel there's an unfortunate propensity by some to undervalue the role of the arts in the scholastic environment. I agree that schools are primarily – but not entirely – places to nourish the pupils' academic leanings, and I would argue that a subject like Drama is as academic as anything else on the curriculum. The modern world – and, by extension, modern academia – can sometimes appear to perceive the arts and humanities as the poor relation to technology and scientific logic, regarding the former two with intellectual contempt. Never having held with this view myself, I've sometimes found myself in the position of giving a spirited defence of drama and the arts in education and society.
Firstly, Drama's qualifications as an academic subject – in addition to acting, drama lessons include regular study and evaluation of plays, giving it a lot in common with English Literature – and indeed, some of my Drama teachers doubled as English teachers and vice versa. As someone who took both GCSE and Drama A-Levels, I can confirm that the notion that Drama classes are just a chance to mess around is inaccurate. Many's the time I can recall sitting at my desk, head bent, poring over an Ancient Greek or Shakespeare play, employing the handy skills of textual analysis.  A thorough knowledge of the historical, cultural and social influences upon the playwright was often required, which meant broad avenues of research and investigation. An education in Drama can give a student a decent grounding in literature, history, politics and religious/philosophical thinking, as all of these can somehow feed into the process by which a play is written.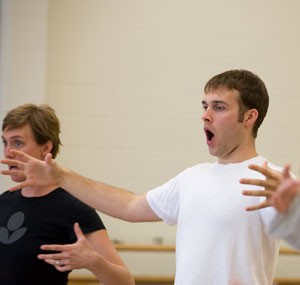 I also believe that Drama lessons potentially serve as a source of personal development when it comes to students who struggle with confidence and social situations. A naturally socially anxious individual, I well remember being a painfully shy and timorous child, very much one to sink into the background. In those days, I would have bolted from the room screaming at the suggestion of taking on anything as terrifying as acting. In my first year of secondary school, when Drama classes were a mandatory, if minor, part of the schedule, I grudgingly trudged to the obligatory one lesson per week, sure that when it came around to any 'proper' acting, I would sputter and flounder in true awkward fashion.
But something changed in my second year. I could never quite pinpoint it, but all of a sudden, I found that it wasn't so difficult to slip into the persona of another character. Furthermore, I discovered that upon shedding my own identity, I could temporarily forego my social awkwardness and transform into someone who was loud, bold and confident. What's more, I liked it – the creative challenge of adopting the traits and emotions of someone else, the positive response from my peers (inducing laughter was always a nice touch for my ego) and the ability to really step outside of myself and look at the world from another perspective. I credit my Drama classes with inculcating in me a greater appreciation for teamwork and improving my self-belief.
Finally, Drama, as a creative endeavour, allows students to give greater reign to their imaginations, something I think is essential in the development of a well-rounded intelligence. As a creatively-minded person, I've always sung the praises of the gift of imagination, and I believe that opportunities for creative expression are important in environments, such as schools, which are mostly very regimented in their structure. Drama, as with other arts, exercises the mind and exposes the pupil to alternative avenues of thought.
That's why I uphold the role of Drama in schools. Can the arts not take us to great heights…?
By guest blogger Michelle Gibson