What do the Covent Garden tube station and the Adelphi Theatre have in common? Other than both locations being in London, one would be hard pressed to think of much else that might connect them. Yet there is a link – in the form of a gentleman whose life, due to its premature end, came to include themes of jealousy, insanity and murder.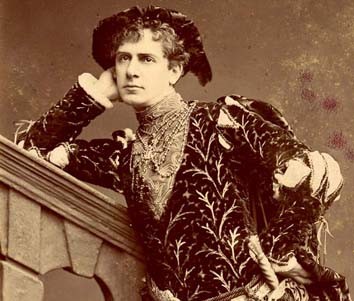 The man in question is William Terriss, a nineteenth century actor whose first outing on the stage took place in 1868 at Birmingham's Prince of Wales Theatre. Over the ensuing years he became strongly associated with the swashbuckling hero character type and his star began to rise in the 1870s. Additional dramatic and comedic roles – including parts in The Shaughraun and The Rivals – saw him gain even greater prominence.  In 1880 he joined Henry Irving's company at the Lyceum Theatre and it was during this decade that he made his first appearances at the Adelphi. By now, he had become a highly regarded performer, described by the New York Dramatic Mirror as "one of the greatest and next to Henry Irving, undoubtedly the most popular actor in England."
William Terriss would undoubtedly have continued to draw acclaim into the new century – but sadly, tragedy intervened to dictate otherwise. For several years, Terriss had helped acquaintance-cum-struggling actor Richard Archer Prince, to find work in various productions. Despite a falling-out, he maintained his loyalty by sending him money through the Actors' Benevolent Fund and persisting in finding him jobs. Prince, however, was becoming increasingly mentally unstable and dependent upon alcohol. By 1897 his overall health had deteriorated to the extent that he was virtually unemployable.
On the evening of 16th December 1897, Prince hid himself in a doorway close to the Adelphi stage door. As Terriss entered to prepare for his evening's performance, Prince attacked and stabbed him to death. Due to Terriss's popularity, the murder created a sizeable media stir. The following trial found Prince guilty but also insane, so he was incarcerated at Broadmoor Asylum until his death in 1936. What was seen – by the standards of the time – as a rather lenient sentence led Henry Irving to complain, with some justifiable bitterness, that "Terriss was an actor, so his murderer will not be executed."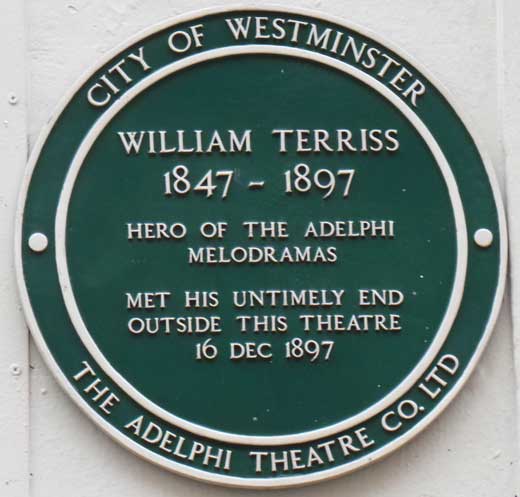 But does Terriss' story end there? Some might claim not, since this is where we come to the association between the Adelphi and the Covent Garden underground. Following alleged sightings, rumours have persisted that Terriss' ghost maintains a presence at both places, the first of such reports taking place in 1928. A young actress – referred to as "June" – claimed that while sleeping in her dressing room, her bed began to shake, followed by an appearance of green mist, whereupon she was seized by an unseen entity. She also reported hearing two knocks on the dressing room door – this reputedly having been a communication used by Terriss to inform his girlfriend, actress Jessie Millward, that he had arrived at the theatre. Since then, other performers have asserted that they have seen Terriss walking around the Adelphi.
Similar stories at Covent Garden are professed to have taken place up to as late as 1972. One such tale is recorded in Peter Underwood's book Haunted London, which relates the experience of ticket collector Jack Hayden, who, whilst "making a final check that the platforms were deserted, suddenly noticed a tall and distinguished-looking man walking along the west-bound subway and climbing the emergency spiral stairs. Hayden quickly telephoned upstairs and told the booking-office clerk to apprehend the man…Hayden himself took the lift up and met a puzzled clerk, who said no one had emerged from the stairs." This was followed by a sighting of the same man days later. Upon being shown a photograph of William Terriss, Hayden was adamant that this was the person he had seen.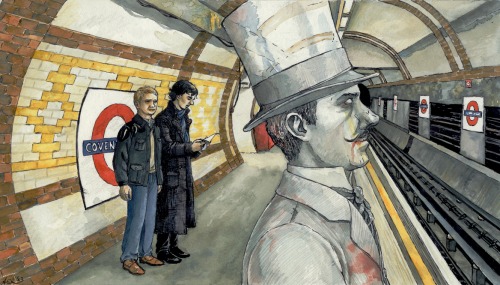 So Terriss transitioned from being one of the most highly acclaimed actors of his age to a figure of ghostly lore. Does his story end at the moment of his murder? Or could we potentially be witness to a sad phantom sweeping the stage of the Adelphi – or hear the spooky clatter of a cane upon Covent Garden's lonely corridors? No one can know, and perhaps it doesn't matter. Maybe what is more important is that the name of a gifted performer has, in some form, survived. Like so many talented people, William Terriss could have fallen into the abyss of theatrical history, overshadowed by the passage of time. Instead, his presence has persisted in the excited whispers of Adelphi performers and railway employees. And the next time I find myself at Covent Garden station – or the Adelphi Theatre itself – I'll make a point of nodding my head to him.
by Guest Blogger Michelle Gibson