I've recently been reading a humorous book called 'How to Complain', which does exactly as it promises – offers advice on how to go about venting your feelings any time you are the unfortunate recipient of bad service. With dry humour, the writer – sports lawyer Mel Stein – regales the reader with tale after tale of the woes he has suffered from airline companies, misleading travel agents, poor restaurants, and various other businesses that, at some time or another, have failed to deliver the standards that customers have come to expect. It got me to thinking of trips to the theatre, and the irritations that can stand in the way of enjoying the experience to the fullest – and as I progressed through the book, I saw that Stein does indeed cover this area with a chapter of his complaint letters to several theatrical venues.
So what calamities might be in store for the unwitting theatre-goer? The play itself might not be to your taste, but you pretty much have to take that into consideration when you book. Perhaps some of the performers might not be up to par, but with something as subjective as acting, that again might be down to the individual alone. What you perceive as the most wooden of actors, someone else might believe to be Hamlet material. Luckily, if you like to complain, you'll possibly run into some more undeniable annoyances that put a spanner in the works of your evening's entertainment.
This might be best illustrated by a story. Put yourself in the shoes of your average theatre-goer. You've been waiting several months to see a play you've high hopes about. Perhaps you're familiar with the playwright or there's an actor or two that you really like. You've got a decent seat and paid somewhere in the range of £60-£70. You arrive at the venue in good time, buy yourself a drink and a programme, pre-order a wine for the interval, and settle into your seat.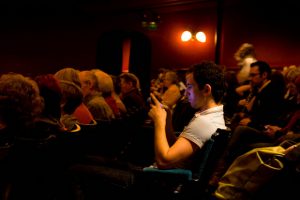 Other people filter through, and that's when you become aware of them. An obnoxiously loud group just beginning to make their way in. You can hear them from the other end of the auditorium. Two couples – in their forties. One pair look like they've just emerged from a tanning salon. You dub them Mr and Mrs Fake Tan. Mrs Fake Tan must be 45 but still dresses like she's 21. She's wearing clothes you'd see at a nightclub, not a London theatre. Their friends look like they'd be more at home in your neighbourhood's grubbiest dive of an alehouse. You nickname them Mr and Mrs Boozer. You hope they won't be sitting anywhere near you.
Your hope is in vain. They plonk themselves into the empty seats beside you. They are laden down with endless bags of shopping, which look to be in danger of spilling into your leg space. "Mind if we dump this lot here?" asks Mr Boozer, then dumps it around your feet before you've had a chance to respond.
You hope that might be the end of it, but it turns out that they're Talkers. Mr Fake Tan explains that they don't usually go to the theatre, but he and the wife won some tickets and thought it might be fun. Mr Boozer thinks acting is "poncy" but Mrs Boozer persuaded him to go along because it was a free night out, and there'd be drinks. You nod and smile through gritted teeth
Finally, the lights dim and the play is about to start. Ah! Relief! But your celebration is short-lived – as if on cue (really, it's as though they time this) the crinkling and rustling of paper bags is heard as the actors say their first lines. The Fake Tans and Boozers have loaded up on snacks for their night out and have chosen this time to break into them.
Your heart is sinking fast. You try to concentrate on the performance, but not only is the crackling of food wrappers a distraction, these four are also some of the loudest eaters you've come across. The squelchy, slobbery cacophony emanating from their mouths resembles a herd of cows gnawing in unison. By now you're experiencing the beginnings of panic, the sense that you are trapped for the entirety of the show with audience members dragged from the lowest echelons of hell. You start to sweat, your pulse quickens. The first ten minutes have already elapsed and you've barely heard any of it.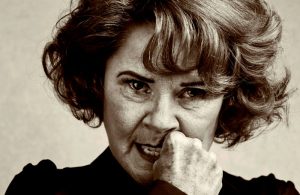 This can't go on. But it does. You try to cling to a vague hope that this is a set-up, a trick, that you're secretly being filmed for one of those prank TV shows. Any minute now Peter Dulay and Arthur Atkins will jump out and reveal that you're on Candid Camera. But it doesn't happen. Your neighbours have now flipped open the first of their beers and continue to munch their way through what seems to be an entire week's groceries.
To make matters worse, they're still talking to one another. Mrs Fake Tan pulls out her mobile phone and starts sending a text message. "What's this play called?" she asks her husband. None of them are bothering to keep their voices particularly low. You tap her husband on the arm and give him your best icy glare. "This is not a dinner party," you hiss. He doesn't understand. He thinks you've given him the name of the production and repeats what you've said to his wife. Natter, natter, natter. On it goes.
If you thought the interval might be your oasis of peace, you were wrong. There's been a mix-up and the wine you pre-ordered has been given to another member of the audience instead – Mr Fake Tan, who you know had in fact ordered a cider, and is now enjoying your prosecco. Although you're aghast at his nerve, you don't bother to confront him. You angrily join the lengthy queue to the bar. There are eight people still ahead of you when the usher announces that the performance will recommence in two minutes. There's no chance you'll be served in time. Wearily, you force yourself back to your seat, though you've by now resigned yourself to the fact that your whole evening will be a thoroughly miserable experience.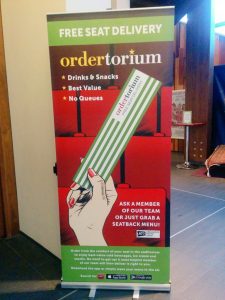 You get the point. Many people have had their enjoyment of a play or a film considerably curtailed by noisy eating and chin-wagging spectators. While I'm not one who thinks that a complete ban on food and drink should be implemented, there are others (such as Imelda Staunton) who feel it's warranted. At the very least, it's an interesting discussion. One which the understandably crotchety Mr Stein might feel obliged to weigh in on, given what he witnessed at an RSC production of The Taming of the Shrew:
"Just as the action had started for real a family, obviously tourists, took up the seats next to me. A mother, father, elderly relative, two children of about nine or ten and, to my horror, another child so young it had to sit on its mother's lap. Now, unlike W. C. Fields, I have nothing against children in the theatre…these kids next to me, however, were not devotees and they were never going to be as far as I could tell. The elder one wriggled throughout and the younger one steadfastly refused to go to sleep and had to be placated by the mother with a bag of sweets throughout. I'm not sure if the rest of the family got the point either as they chomped their way through the goodies as well, to the point that not only could I not concentrate, but I wanted to scream."
Stein's advice for such scenarios is to "complain on the spot and complain quickly before you make yourself into a martyr." And again, for those of us who love to complain he provides a checklist of potential theatrical disasters:
"Broken or uncomfortable seats – Restricted view – Inability to hear – Noisy neighbours – Dirty theatre – Warm interval drinks – Poor access to the bar – Insufficient toilets…"
Enjoy your next show!
By Guest Blogger Michelle Gibson