It's been quite a year for the club – one that has taken us from a Beverley Hills hotel room (California Suite) to a seemingly cosy, quiet patch of 'Little Britain' (Neighbourhood Watch) via the pre-fabricated, industrious huts of Bletchley Park (Breaking The Code). Ticket sales this year have increased with every production and our Autumn show smashed through that magic number of 300 in online sales alone.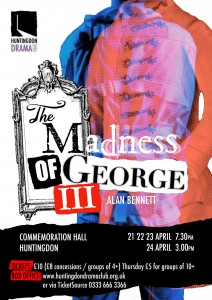 Now we want to take this momentum through to 2016 where two of our three plays are already in place – Mark Hebert will direct 'The Madness of George III' by Alan Bennett which will be our Spring production & for our summer show Josephine Hussey will make her directorial debut with 'The Memory Of Water' by Shelagh Stephenson. The autumn play will also be announced in the very near future & a director is already lined up to take charge of that one. In April I'll be taking all three of our directors to a workshop at the Donmar Warehouse in London, where we'll find out how the professionals run a rehearsal room.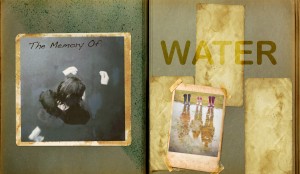 The success of 'Breaking The Code' in July proved that there is an audience here in Huntingdon with an appetite for challenging theatre, who are prepared to take a risk and try something a little different from the norm. We have taken this on board, whilst always remembering that first & foremost we are here to entertain and that a night at the theatre should be interesting, thought-provoking & stimulating but most of all enjoyable. Our 2016 season will provide all those things.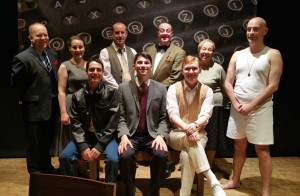 Another very exciting project in 2016 will see us performing at the Cambridge Drama Festival in April. It will be a great opportunity & challenge for our cast & crew to perform in a new venue, to a wholly different audience. With our increasing ticket sales we are also adding matinee performances next year. We think the added choice of a daytime performance will be popular with local community members and it also offers our cast an extra performance. Many a time have I heard the comment "three performances just aren't enough"!
So, lots to look forward to in both the immediate and long term future. Auditions for the Spring play are in January and you can find more info here. On the social front we are heading to Milton Keynes in February to see our good friend Richard James in the touring production of David Walliams' 'Gangsta Granny'. For now, have a wonderful Christmas & here's to the 'madness' in 2016!