Since becoming involved with Huntingdon Drama Club, I've noticed that the group's ability to foster a stimulating creative atmosphere is partly due to being unafraid to experiment, stretch ourselves and undertake plays that are something of a novelty when compared to our performance history. The club is certainly entering new territory with the spring production – Alan Bennett's The Madness of George III is a large ensemble piece with more than twenty characters. Not only can those familiar with past performances look forward to seeing familiar faces, but our audience will also be introduced to roughly a dozen or so new actors making their debut with HDC.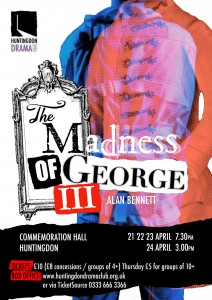 The Madness of George III is highly regarded both as a play and film, and as a lively and comical piece of theatre, it is an excellent choice to kick off the 2016 season. Set approximately halfway through the reign of King George III, the plot centres on the unfortunate monarch's bout of mental illness. As the King becomes increasingly (and hilariously) demented, Queen and frustrated servants do their best to care for George and convince the political opposition that all is well. Matters are complicated by the King's scheming son, the Prince of Wales, who is eager to wrest the power from his father's hands, and who has the support of an army of Whigs, most notably George's nemesis Charles Fox.
Since many of the players in this story are historical figures, the cast has the advantage of being able to research their characters and get a feel for who they are depicting. As for the titular character himself, the exact cause of his illness is still in dispute, though it has been suggested that he was suffering from porphyria, the symptoms of which match George's mysterious illness.
What IS known is that at times, the King's behaviour was genuinely disturbing. He would on occasion become physically violent and it was reported that "he often spoke till he was exhausted, and, at the moment he could recover his breath, began again, while the foam ran out of his mouth." In a moment of lucidity in 1788, the King was said to have wept, "I wish to God that I may die, for I am going to be mad." A largely popular monarch, George's eventual recovery was met with celebration by most of the British public, although in the final decade of his life, ill health was sadly to plague him again.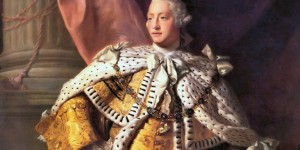 Despite still being in the early stages of rehearsal process, there are already inklings of the play taking shape. It is particularly funny to watch the King's harassed footmen fawning and fumbling over their master and Milton – as the Prince of Wales – oozes a foppish self-importance which is strangely endearing. As King, Dean is delivering a character with whom we can easily sympathise, bringing a human quality to someone who could all too easily be presented as a blustering buffoon. Josephine, in the role of Queen Charlotte, is alternately bewildered and distressed by the bizarre behaviour of her husband. Supported by an enthusiastic cast, early signs indicate that come April, the club is set to bring its audience a wildly funny and energetic performance.
By Guest Blogger & cast member Michelle Gibson. Tickets for The Madness Of George III are on sale now.