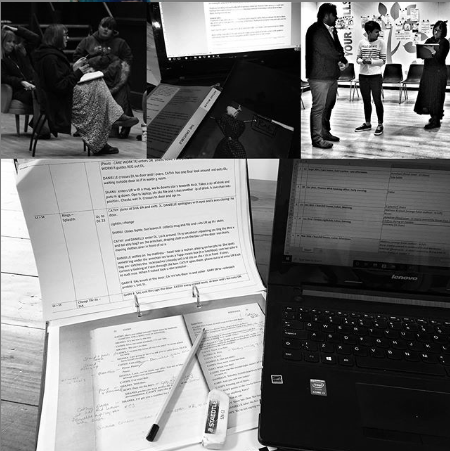 In the latest installment of our 'Meet our Members' series we're catching up with Rae Goodwin, one of our talented directors, having directed two recent award wining dramas for us. We discuss some of her favourite directorial moments, as well as what advice she would give to new directors and where on earth a director gets their ideas from…
Tell us how you first got involved with Huntingdon Drama Club.
I relocated to Cambridgeshire in 2015 and, with my new job, found I had more free time on my hands in the evening. I'd been wanting to get back into performing having had a 10 year hiatus and this provided the perfect opportunity. I researched a number of local groups and was drawn to Huntingdon Drama Club because they had produced interesting plays such as Breaking The Code and The Accrington Pals in the past. I contacted the Club, was cast in The Madness of King George and have been involved every production since in some capacity or another; whether it be performer, producer, stage manager, front of house or director.
Starter or dessert?
It really does depend on the mood I'm in! However, I'm more likely to go for starter as I have a savoury tooth.
Favourite time of year?
Autumn because I love the colours.
Describe your perfect day?
Browsing some record shops, popping into the National Theatre bookshop to pick up a play text or two and then heading off to a gig or a show.
You have now directed two award winning productions for us, Cathy and The Crucible. What has been your favourite moment with us so far?
I was incredibly privileged, on both occasions, to work with an extremely talented and dedicated cast and crew. Having gradually come together during the rehearsal process it's that moment, when the first performance is over, of seeing the cast and crews' facial expressions and feeling the buzz of camaraderie in the room.
We know you have been involved in directing for some time – what was your favourite directing experience outside of the club?
That's really difficult to answer; like being asked to pick your favourite child! In my previous job, as a Head of Drama in a secondary school, I directed many productions across the years but two, in particular, stand out: the first one I directed, Teechers, which my GCSE students performed in promenade around the school. It was a first for both them and me and was a really enjoyable process. Another production that has stayed with me was a whole school production of His Dark Materials. It was a challenging show to stage but the students really stepped up to that challenge; especially those working with the dӕmon puppets.
Which theatre would you love to direct in – if you could choose any in the world? Do you know which play you would direct?
It's too hard to narrow it down to just one! I'd probably say either the Dorfman Theatre in London, the Royal Exchange Theatre in Manchester or, more locally, The Place in Bedford. They are intimate, interesting and flexible performance spaces and I've seen some innovative and inspiring productions in all three.
With regards to the play, I'd probably want to direct an Ancient Greek drama; either The Women of Troy or Medea. Despite originally being performed in huge amphitheatres, I think both of the plays would lend themselves to a more intimate setting.
Where do you get your ideas from?
It can be anything, from a photo or image to a piece of music. I collect ideas in a notebook of things I've seen that, as an audience member, I've found effective whether it be on stage, TV, film or online. It could be the use of a particular lighting or sound effect to heighten a moment of tension, a detail in a costume or the portrayal of a particular type of character. I will reference this notebook when collating initial ideas for a production. Also, ideas will be generated organically by the rehearsal process; a performer will bring something to light that you, as a director, haven't necessarily considered before. Those discoveries can make the rehearsal process even more rewarding.
What are the most important steps throughout the whole process of directing?
Every director will have their own approach and those approaches will inevitably differ depending on the type of performance being created. For me one of the first steps, when working with play text, is to think carefully about a concept; making sure it's coherent, consistent and most importantly, serves to tell the story rather than just being a gimmick. This is especially important when tackling period pieces or classics such as The Crucible where an audience may have a preconceived idea of what the production should look like.
Whilst I will have a clear idea of the concept and of how certain moments could look, I also try to be flexible with those ideas during the rehearsal process as performers and technical crew will make interesting contributions which can enhance elements of the performance. Similarly, if you have the luxury of time during your rehearsal process, giving the performers the opportunity to explore their characters through both on and off text activities can be a really rewarding experience and also serve to elevate the performance in the long run.
Feedback is another important part of the directing process; not only providing it, as a director, but also encouraging cast and crew to contribute their feedback too. I am always interested in hearing the cast and crews' thoughts and opinions about how the production is developing.
What advice would you give to someone interested in directing but was unsure where to begin?
I'd recommend reading a variety of plays as well as watching different styles of performance, whether online or in person, to discover what interests you the most. Once you've found a play you're interested in directing, bounce ideas around with a friend and, when you've consolidated your initial ideas, pitch them to a local drama group. Also, I would highly recommend approaching a local drama group and asking to shadow a director for a production because it will give you a real insight into the demands of the role.