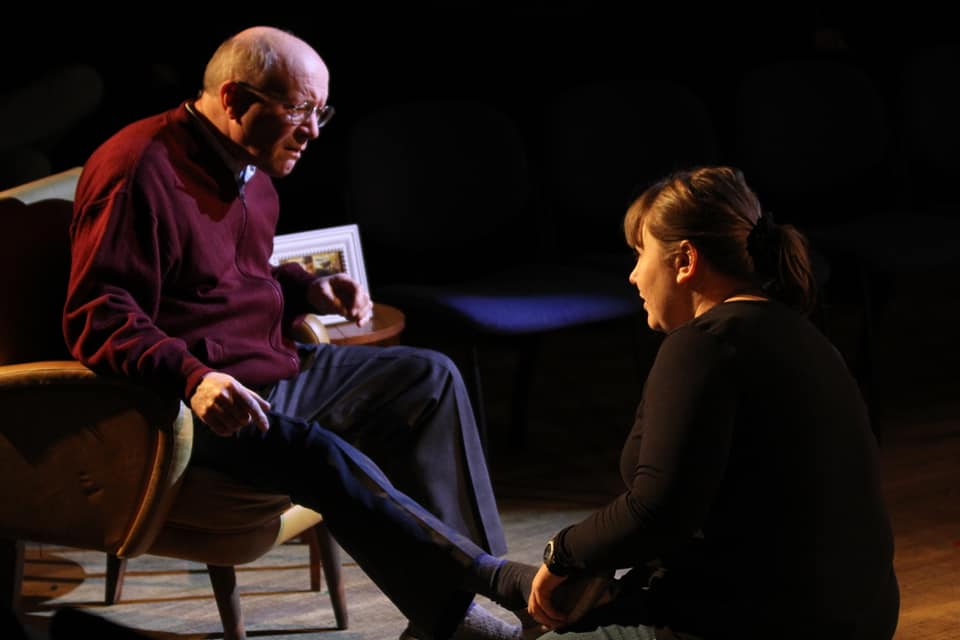 For our second installment of 'Meet our Members', we introduce you to one of our most talented and committed lead actors, Kerry MacCuaig, who played the pivotal character of Cathy in our Autumn Production of the same name.
We discuss nerves, line learning, auditions and what, as a new member to the Huntingdon Drama Club, Kerry has learnt. We also cover the important questions of dream roles and perfect days…
You were brilliant as Cathy – what was your favourite moment of it all? 
Thank you. My favourite moment of it all was working with new people who I have become close with since finishing the play and working in a new style of theatre.

What was your favourite play you have acted in outside of HDC? 
I am really into musical theatre, so my favourite thing I have been in other then Cathy has to be 'Oh What a Lovely War'.

How on earth do you learn all the lines? 
I am dyslexic so I find it quite hard to sit and read a script over and over again, so I recorded the play at the read through so I could play it over and over again. I also find moving with the script helps with learning the words, it makes it more of a physical act. To me moving with the script allows you to get the physical emotion into the movements and helps with learning the blocking (basic moment directions). I also printed off sections of the script and stuck them in different areas of my house. My husband thought I was strange but I learnt the lines!

What would be your dream part to play? Do you have parts you would like to play from different theatre genres?
Because of my love of musicals I would say Nancy from 'Oliver'. I have recently watched 'Jane Eyre' and that role really intrigued me. I would also love to play the Woman from 'The Woman in Black' as I remember the play fondly and I'd love to make people jump! I would love to be a part of a play that I have always wanted to direct; it's based on the film a 'Matter of Life and Death'. I'd also love to be Scrooge in 'A Christmas Carol' as I would love to see it played in a different style. 

We'd love to see those! Do you ever get nervous? If so, when? 
I get really nervous in the first scene and then once I'm into it it seems to ease off, it's the first few lines that get me. 
What do you do to manage your nerves?
I normally take myself out and have a few minutes just to myself and breathe deeply, I also run through my lines quickly as a sort of chant with a dance!

What advice would you give to someone thinking of auditioning but nervous about the process?
I would say that the Huntingdon Drama Club are really friendly and open to new people auditioning, I love the fact that the auditions are more like a work shop than an audition as I felt at ease and it's nice to see and interact with other people from the club. I would say go for it, as even if you don't get a part, making your face known can lead to good things. As for nerves, I guarantee they will fade within a few minutes of being there as everyone is friendly and welcoming and that is part of the reason I want to be involved with Huntingdon Drama Club again.

Starter or dessert? 
Desert because sweets are everything.I look at the desert menu before main menu most of the time.

Cats or dogs? 
I love them both equally and I am the proud mother of 4 'fur babies' (3 cats & 1 dog).

Describe your perfect day? 
Have a big breakfast, go out for a fun activity like going to a zoo or something physical like swimming or going to a theme park, have more food and watch a new film with the family at home with a big bowl of popcorn or go to the theatre to watch a show.

Thanks very much for sharing this with us, Kerry! And as for our audience, keep your eyes peeled for our next interview in May!