Our very first 'Meet the members' interview takes you back stage into the world of our enigmatic Lola Harling, one of our most dependable and competent stage managers who transformed the role within HDC into what it is today. We asked her several questions ranging from those about the art of Stage Management to a few about the woman herself…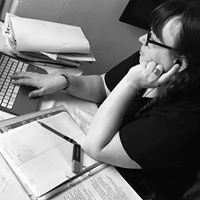 What was the first production you stage managed?
The first production I had a stage management role in was at college, on my BTEC Technical Theatre course. I was the Deputy Stage Manager for the musical 'Oliver'. The college had a deal with the Key Theatre in Peterborough that students who studied Technical theatre, musical theatre and dancing could put on a professional quality musical twice an academic year. My first production I stage managed for Huntingdon Drama Club was 'The Madness of King George'.
How long have you been involved in Huntingdon Drama Club? Tell us a little about your time with us.
I have been involved with the Huntingdon Drama Club since 2016. I became a member of the committee and have the role of Social Event Organiser. In that time I have seen the club move location from the Commemoration hall to places such as Huntingdon Town hall, in the courtroom and St. Mary's Church.
Don't you have to know loads to be a stage manager?
I have changed the role of Stage Manager for the drama club by combining two roles together. Before I joined the club the role of Stage Manager would describe a role very like a professional Stage Manager, where you act like a health and safety officer and ensure everyone is accounted for; someone who runs the stage area. I combined this role with the professional role of Deputy Stage Manager – this role involves a special item called 'The Book'. The Book is normally a folder with an enlarged version of the script where the Deputy Stage Manager notes down blocking. Blocking is a note of where actors enter and exit the stage; the actors' movements around the stage; if they have a prop (an item the actor holds or uses); and if the director envisions a lighting or sound change. The Book is very important to help if anyone is ill and misses a rehearsal or if there are any changes to what cast need to do, and is available for everyone to see. By combining these two roles it allows the director to concentrate on directing.
What is the most important thing to know?
The main role of Stage Manager is to look after the stage and what happens on stage, and normally does risk assessments for the production and plans how and when all the equipment and set get set up and come down, this is called a 'Get In' and 'Get Out'.
To do a Deputy Stage Manager role (which we combined with Stage Manager), the only difficult part is knowing your Stage Left, Right, Up and Down when watching from the audience point of view, and making sure people understand your version of short hand notes.
Any other top tips?
My top tips are:
Stay calm
Forward planning/thinking
Be organised
Stationary is your best friend
Be confident
Remind actors to be quiet behind stage
Who's in charge once we're in the theatre space?
The Stage Manager is in charge of the theatre space once you enter the space. This means even the director must listen to you. Especially when you have a Tech Rehearsal – this is the rehearsal that is just for the technical team, lighting; sound; set and props. Actors may get bored and frustrated, but as I always say, actors have several weeks to rehearsal and the tech team normally only get a day.
Starter or dessert?
Most people who know me well know I'm a dessert girl; anything lemony or chocolaty mostly. If it is ice cream, sorbet or gelato I'm a happy lady. But if I'm feeling like a piggy wiggy I will have a starter as well – normally something garlicky or calamari.
Cats or dogs?
I don't mind cats but I am definitely a dog person. When my boyfriend and I get a house I'm hoping to get my own dog. I'm sad scaly babies are not included in the question as I have an amazing terrapin called 'Ariel'.
Favourite HDC production moment and why?
My favourite production moment is an incident during the production of 'A Bunch of Amateurs' when the character Denis accidentally crashed into the audience on a mobile scooter due to the audience members moving their chairs into the aisle. It was a concerning and funny moment all at the same time, will definitely go down in Drama club history.
Describe your perfect day?
My perfect day inside is curled up in my PJs with my other half or with one of my besties, watching feel good films, eating snacks and maybe some ice cream.
My perfect day outside is a day at the beach, near the sea, enjoying the nostalgia of being a child and feeling one with the sea (Yes, I believe I'm a mermaid!)