We're just over a month into rehearsals for 'California Suite' and, as to be expected from a play which is primarily a comedy, it's a lot of fun. If the amusement from the cast a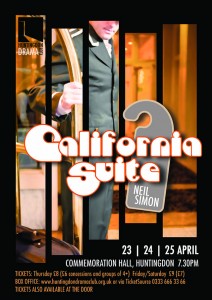 nd director can be any kind of barometer, then come 23rd April, the audience will be rolling in the aisles.
Having attended all of the Drama Club's productions in the last year, I'm by now no stranger to the high-calibre performances that are always delivered, so it came as no surprise to find that my fellow cast members were a wonderfully skilled group.
Like as I would to extol the virtues of every actor, doing so would turn this blog post into a dissertation. So for now, suffice it to say that the interplay between Tony and Caroline is splendid, Scott is putting on a delightfully furious show as the indignant Mort, and Dean is going to have everyone in stitches with his portrayal of the hapless, panicked Marvin.
It's great to be a part of it all. I look forward to seeing the play really come together in future rehearsals.