What a day! The latest of the club's many social events proved to be arguably the best yet. Many thanks first of all to Josephine, our social secretary, for doing such a great job of organising the day – absolutely top notch. And thank you to our wonderful National Theatre for being the best place in the capital to enjoy a full day of theatre. Already a great venue, the NT's recent redevelopment has taken the place to another level.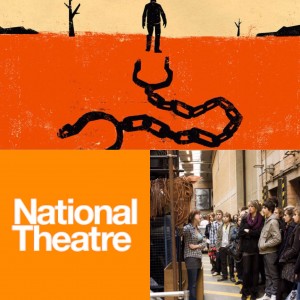 Twenty of us in total took the train into London on Saturday morning, including many new faces joining us for the first time. We arrived on the South Bank around 11.15am & headed straight for coffee in the new ground floor cafe, Kitchen, before beginning our backstage tour. I cannot recommend the tour enough – this was my third time. The tour guides are excellent – informative & entertaining and because of the constantly changing shows within the theatres, the tour is always slightly different. Beginning in the impressive Olivier auditorium, based on the Ancient Greek theatre in Epidaurus, the NT is a breathtaking combination of theatrical ingenuity, technology, creativity and ground-breaking artistic production. The most impressive feature is arguably the drum revolve on the Olivier stage – rather than try to explain it, take a look at this video here. The Olivier holds an audience of 1100 people, all of whom have an unrestricted view of the stage, a design which also means that an actor on stage, standing in the position known as the 'point of command' can see every audience member in his peripheral vision, without moving his head.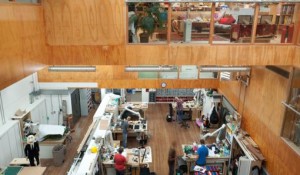 Another interesting addition to the tour is the Sherling High Walkway (above), where the public are offered a glimpse into the inner workings of the props department, set construction & paint shop, where plays are constructed on a truly industrial scale. On any given day here there can be up to a thousand people at work.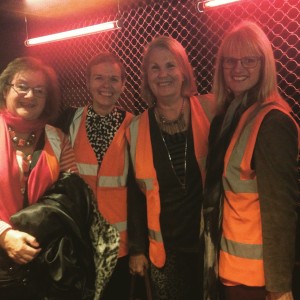 Emerging from our tour the theatre foyers were abuzz with activity & anticipation for the afternoon's matinee shows. We were booked in to see Timberlake Wertenbaker's "Our Country's Good" the story of a group of convicts shipped to the prison colony of Australia, who mount a production of Farquhar's "The Recruiting Officer". It's a very powerful play, made all the more emotional by Cerys Matthews' haunting original score. It's inspiring story of the transformative powers of theatre left more than one or two of us a little teary-eyed!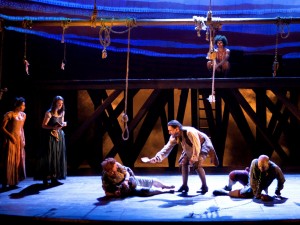 The NT also houses several restaurants and so we decided to round off the day in the new Green Room, which as well as serving delicious food in a fun and vibrant atmosphere also houses recycled props & furniture from past productions. Suitably fed & watered we headed home inspired, entertained & eager to return to see more productions at this great national institution. Thank you NT!