Past Productions. Scroll down for more Production Info
Year
Spring Production
Summer Production
Autumn Production
2018
The Thrill Of Love by Amanda Whittington
A Bunch of Amateurs by Ian Hislop & Nick Newman
2017
Alfie
by Bill Naughton
Shakers
by John Godber & Jane Thornton
The Crucible
by Arthur Miller
2016
The Madness of George III
by Alan Bennett
The Memory of Water
by Shelagh Stephenson
Outside Edge
by Richard Harris
2015
California Suite
by Neil Simon
Breaking The Code
by Hugh Whitemore
Neighbourhood Watch
by Alan Ayckbourn
2014
Habeas Corpus
by Alan Bennett
Talking Heads
by Alan Bennett
The Accrington Pals
by Peter Whelan
2013
Occupational Hazards
by Clive Lawrence
Table Manners
by Alan Ayckbourn
Picasso at the Lapin Agile
by Steve Martin
2012
A Fete Worse Than Death
by Richard James
Travels With My Aunt
by Graham Greene, adapted for the stage by Giles Havergal
Hound of the Baskervilles
adapted by Tim Kelly
2011
A Doll's House
by Henrik Ibsen
Abigail's Party
by Mike Leigh
Pack of Lies
by Hugh Whitemore
2010
The Importance of Being Earnest
by Oscar Wilde
Port Out, Starboard Home
by Richard James
The Happiest Days of Your Life
by John Dighton
2009
Separate Tables
by Terrance Rattigan
Absent Friends
by Alan Ayckbourn
And Then There Were None
by Agatha Christie
2008
Cold Comfort Farm by Stella Gibbons, Adap. by Paul Doust
Hay Fever by Noel Coward
Ghost Writer by David Tristram
2007
Joking Apart
by Alan Ayckbourn
A Murder is Announced
by Agatha Christie, adapted by Leslie Darbon
Charlotte Bronte's Jane Eyre
adapted by Willis Hall
2006
Silhouette by Simon Brett
Move Over Mrs Markham by Ray Cooney & John Chapman
Dreaming of a White Christmas
(for Patch - Performing Arts at the Commemoration Hall)
2005
Fallen Angels by Noel Coward
The Mummers Play - traditional
From Mafeking to the Millenium by Ann Monk & Michael Black
2004
May-hem
Bobby Dazzler
2003
The Real Inspector Hound
by Tom Stoppard
Wedding of the Year
by Norman Robbins
2002
Worlds Apart
by Valerie Gerrard & Carol Carmen
Mixed Doubles
2001
Picasso at the Lapin Agile
by Steve Martin
Journey's End by RC Sheriff
2000
Bazaar and Rummage
by Sue Townsend
One Flew Over the Cuckoo's Nest
by Dale Wasserman
1999
Rope
by Patrick Hamilton
Working With Amateurs
by Valerie Gerrard & Carol Carman
1998
An Ideal Husband
by Oscar Wilde
On the Razzle
by Tom Stoppard
1997
The Hollow
by Ken Hill
Absurd Person Singular
by Alan Ayckbourn
1996
The Importance of Being Earnest
by Oscar Wilde
Dracula
by Ken Hill
1995
No Sex Please We're British
by Anthony Marriot & Alistair Foot
Out of Sight.. Out of Murder
by Fred Carmichael
1994
Tom Jones
by Joan Macalpine
Golden Gala Evening 50th Birthday Party
Dr Who and the Empress of Othernow
by Peter Vialls
1993
A Chorus of Disapproval
by Alan Ayckbourn
Loot
by Joe Orton
1992
Lady Windermere's Fan
by Oscar Wilde
The Ghost Train
by Arnold Ridley
1991
School for Scandal
by R B Sheridan
Pass the Butler
by Eric Idle
1990
A Day in the Death of Joe Egg
Caught on the Hop
by Derek Benfield
1989
Under Milk Wood
by Dylan Thomas
Pygmalion
by George Bernard Shaw
1988
Any Number Can Die
by Fred Carmichael
Easy Virtue
by Noel Coward
1987
Lord Arthur Savile's Crime
by Constance Cox
A Kind of Alaska
by Harold Pinter
Arms and the Man
by George Bernard Shaw
Laburnum Grove
by J B Priestley
1986
Absent Friends
by Alan Ayckbourn
Suddenly at Home
by Francis Durbridge
Night Must Fall
by Emlyn Williams
1985
Filumena
by Eduardo de Filippo
She Stoops to Conquer
by Oliver Goldsmith
1984
Entertaining Mr Sloane
by Joe Orton
Hay Fever
by Noel Coward
1983
Relatively Speaking
by Alan Ayckbourn
1982
Clouds
by Michael Frayn
The Man Most Likely To...
1981
Donkey's Years
by Michael Frayn
Blithe Spirit
by Noel Coward
Gingerbread Man
1980
There's a Girl in My Soup
by Terence Frisby
The Anniversary
by Bill MacIlwraith
Plotters of Cabbage Patch Corner
1979
Habeas Corpus
by Alan Bennett
Sink Trap
The Snow Queen
1978
Boeing-Boeing
by Marc Camoletti
The Owl and the Pussycat
by Neil Simon
1977
Barefoot in the Park
by Neil Simon
Ring Round the Moon
by Jean Anouilh
1976
The Lion in Winter
by James Goldman
1975
Shadow in the Sun
Toad of Toad Hall
1974
Hotel Paradiso
by George Feydeau & Maurice Desvallieres
The Odd Couple
by Neil Simon
1973
For Services Rendered
Inherit the Wind
1972
The Militants
by Norman Holland
My Three Angels
1971
The Crucible
by Arthur Miller
The Young Elizabeth
Present Laughter
by Noel Coward
1970
Person Unknown
by Olive Chase & Stanley Clayton
As Long As They're Happy
by Vernon Sylvaine
1969
When We Are Married
by J B Priestley
Separate Tables
by Terence Rattigan
1968
A Letter from the General by Maurice McLoughlin
Cat on the Fiddle
by John Dole
1967
Death and Brown Windsor
Post Horn Gallop
1966
Lord Arthur Savile's Crime
by Constance Cox
The Whole Truth
1965
Doctor in the House
by Ted Willis
Miranda
1962
Mr Pim Passes
by A. A. Milne
Bonaventure
by Charlotte Hastings
1961
Breath of Spring
by Peter Coke
1960
Duet For Two Hands
by Mary Hayley-Bell
Beside the Seaside
1958
Cry Wolf
Running Riot
by Derek Benfield
1957
Wild Goose Chase
by Derek Benfield
Seagulls Over Sorrento
1956
Charity Begins...
1955
The White Sheep of the Family
by L. du Garde Peach & Ian Hay
Here We Come Gathering
1954
The Two Mrs Carolls
This Happy Breed
by Noel Coward
Worm's Eye View
1953
To Kill a Cat
See How They Run
by Philip King
1952
A Lady Mislaid
Will Any Gentlemen
1951
The Paragon by Michael Pertwee
The Happiest Days of Your Life
by John Dighton
1950
Chiltern Hundreds
by William Douglas-Home
The Poltergeist
1949
Rookery Nook
by Ben Travers
Pink String and Sealing Wax by Roland Pertwee
1948
The Shop at Sly Corner by Edward Percy
1947
Ladies In Retirement
Blue Goose
1946
Love From A Stranger
Quiet Weekend
1945
Romantic Age
by Bernard Slade
1944
Jephthah's Daughter
Lights Out
Autumn 2018 – A Bunch of Amateurs by Ian Hislop & Nick Newman
Director – Dean Laccohee
Keen to boost his flagging career, fading Hollywood action hero Jefferson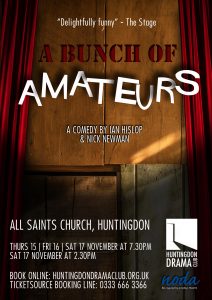 Steele arrives in England to play King Lear in Stratford – only to find that this is not the birthplace of the Bard, but a sleepy Suffolk village. And instead of Kenneth Branagh and Dame Judi Dench, the cast are a bunch of amateurs trying to save their theatre from developers. Jefferson's monstrous ego, vanity and insecurity are tested to the limit by the enthusiastic am-dram thespians. As acting worlds collide and Jefferson's career implodes, he discovers some truths about himself – along with his inner Lear!
NODA Review A Bunch Of Amateurs
Spring 2018 – The Thrill Of Love by Amanda Whittington
Director: Sandra Birnie 
A gripping drama about Ruth Ellis, the last woman to be hanged in Britain. A divorcee with a young child to care for, Ruth works in the kind of nightclubs where there's more than just a drink on offer. The girls work hard, play hard and dream of a movie-star life. Then she meets the wealthy, womanising David, a racing driver with whom she becomes obsessed. Fame comes – but not in the way she imagines. Why does their relationship end in murder? Why does she plead not guilty but offer no defence? Why does she show no remorse? And who is she trying to protect?
The Thrill of Love dramatises the true story of Ruth Ellis, the last woman to be hanged in Britain, and takes a fresh look at the woman behind the headlines. The club staged the production in the beautifully atmospheric setting of All Saint's Church in Huntingdon's Market Square.
Read the NODA Review
The Thrill Of Love – Production photos by Peter Stokes

See images »
Director: Rae Goodwin
Premiered in 1953 Miller's dramatization of the Salem witch trials is a metaphor for Senator Joseph McCarthy's communist witch hunts that rocked America in the 1950s. Miller's play (though lukewarmly received on its premiere) has gone on to become his most-performed piece, revived regularly around the world, including recent productions in London at the Old Vic in 2014 and on Broadway in 2016 with British actor Ben Whishaw in the role of John Proctor.
The Club staged the play in the historic Court Room in Huntingdon Town Hall, which was built on the site of the 16th century trial of the 'Warboys witches'. Alice Samuel and her family from the nearby village of Warboys were accused of witchcraft by a neighbouring family in 1589 & by 1593 had been tried & executed in Huntingdon. The intimate wooden court room lent itself perfectly to an atmospheric 'in the round' interpretation of the play where audience members were just inches from the action, over the course of 5 sold out performances.
Read the NODA Review
Summer 2017 – Shakers by John Godber & Jane Thornton
Director: Vicky Spurway
Shakers Cocktail Bar is THE place to be! After work, before a club, to meet the blokes, to pick up the girls, to drink to celebrate or drown your sorrows, for birthdays and parties and romance and sin, this is the place to be seen.
And in 'Shakers' the four young waitresses reveal the lives of its staff and customers and offer an insight into their hopes, dreams and disappointments. John Godber's sparkling writing builds on the success of his earlier 'Bouncers' to create a richly absorbing yet tellingly revealing modern comedy.
Read the NODA review here: Shakers NODA Review
Spring 2017 – Alfie by Bill Naughton
Director: Dean Laccohee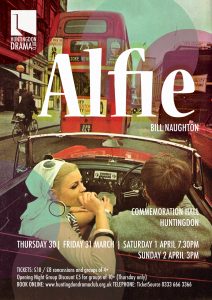 First performed in 1963, this tragi-comic tale of London lothario Alfie Elkins & the many woman in his life was famously adapted for the big screen in 1966 & made a star of Michael Caine. Alfie swaggers & philosophises his way through a succession of conquests, but as his girlfriends come & go he's about to have a brush with reality that may just force him to change his ways. Alfie NODA Review
Excerpts from Alfie were performed at the 2017 Cambridge Drama Festival – read the adjudicators report here – Alfie (excerpts) by Bill Naughton.written adjudication

Autumn 2016 – Outside Edge by Richard Harris
Director: Steph Hamer
Outside Edge is a play by Richard Harris about a cricket team trying to win a match whilst sorting out their various marital problems. Roger is having trouble getting a team together for the afternoons fixture against the British Railways Maintenance Division Yeading East but this proves to be the least of anyone's worries. Bob is having marriage trouble as he is still doing odd jobs for his ex-wife behind his current wife Ginnie's back. Dennis is also having marital trouble as his wife seems intent on moving house despite the fact they only moved recently. When he finally puts his foot down she sets fire to his new car. Kevin is trying to fight off his over affectionate wife Maggie while at the same time nurse his injured spinning finger. Alex's new girlfriend ends up shutting herself in the toilets having hysterics. Even Roger's seemingly perfect marriage to Miriam hits the skids when she discovers he was playing away from home in more ways than one on a trip to Dorking last year. Just when it seems things can't get any worse for them, it starts to rain. The play was adapted for TV in 1982 and was later adapted again as a sitcom which aired in the mid-1990s. Richard Harris's much-loved comedy is the last of our three productions for 2016. Read the NODA Review outside edge show report
'Outside Edge' Production Photos by Peter Stokes

See images »
Summer 2016 – The Memory of Water by Shelagh Stephenson
Director: Josephine Hussey
Three sisters meet on the eve of their mother's funeral in a bitter-sweet play that deals with the themes of memory and family. As they attempt to organise her funeral, the memories of their childhood run together and the secrets of their separate lives are revealed. Teresa, owner of an alternative therapy business, is angry that she was left to care for their dying mother. Mary, a doctor, is still struggling with a deep loss from her past & torn over a relationship with a married man. Youngest sister Catherine seeks attention through a succession of short-term partners. Memories fade & blur as the sisters bicker, watched over by the ghost of the mother to whom they are preparing to say goodbye. 'The Memory Of Water' is in equal measures hilarious, touching & poignant. It was originally performed at the Hampstead Theatre in London before a successful West End run which starred Alison Steadman, Samantha Bond & Julia Sawalha.
NODA HDC Memory of Water review
Spring 2016 – The Madness of George III by Alan Bennett
Director: Mark Hebert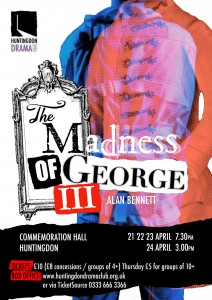 Alan Bennett's 1991 play is a fictionalised biographical study of the latter half of the reign of George III of the United Kingdom, his battle with mental illness and the inability of his court to handle his condition. First produced by the National Theatre with Nigel Hawthorne in the lead role, it was adapted for film in 1994 as The Madness of King George. Read the NODA review – George Review NODA
---
Autumn 2015 – Neighbourhood Watch by Alan Ayckbourn
Director: Dean Laccohee
Read the NODA review here: NODA HDC 2015 Neighbourhood Watch
Brother and sister Martin and Hilda Massie live together, leading a quiet, Christian existence in the confines of the Bluebell Hill Development. Just as they are preparing for a housewarming gathering, their peace is shattered by a young trespasser in their garden. The Massies' neighbours congregate in their living room and together they agree to form a neighbourhood watch group to safeguard against further incidents. But after the Massies' beloved garden gnome Monty is thrown through their window, matters swiftly escalate, complicated by Martin's burgeoning romance with Amy, wife of Gareth, who was formerly involved with Luther, husband of Magda… What begins as a well-intentioned scheme for a safer community ends in violence and acrimony.
---
 Summer 2015 – Breaking The Code by Hugh Whitemore
Director: Dean Laccohee
Described as "elegant & poignant" & a "powerful, riveting drama", Breaking the Code is a play by Hugh Whitemore about British mathematician Alan Turing, who was a key player in the breaking of the German Enigma code at Bletchley Park during World War II and a founder of modern computer science.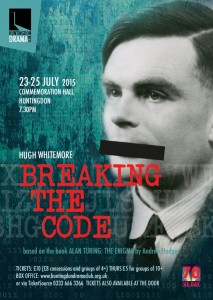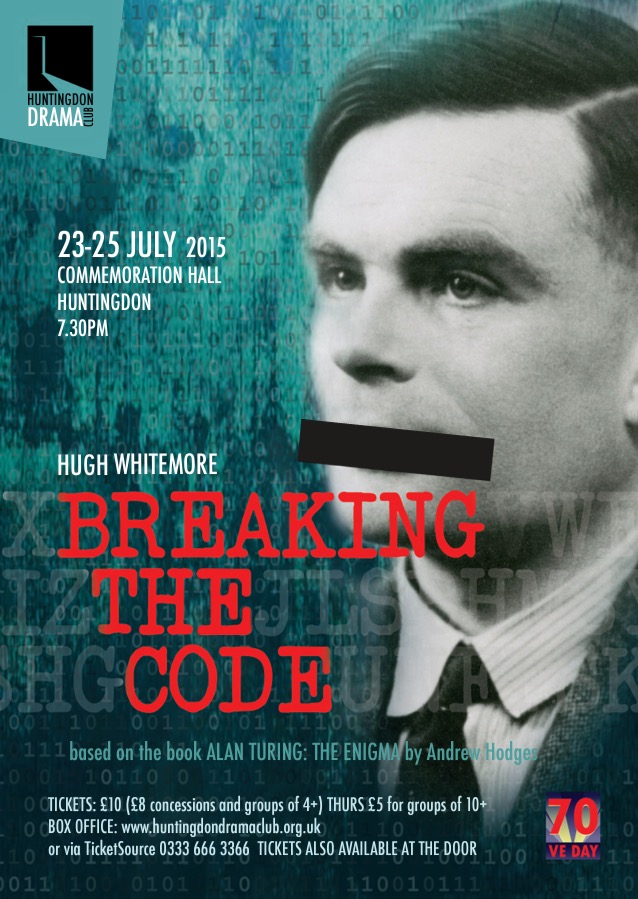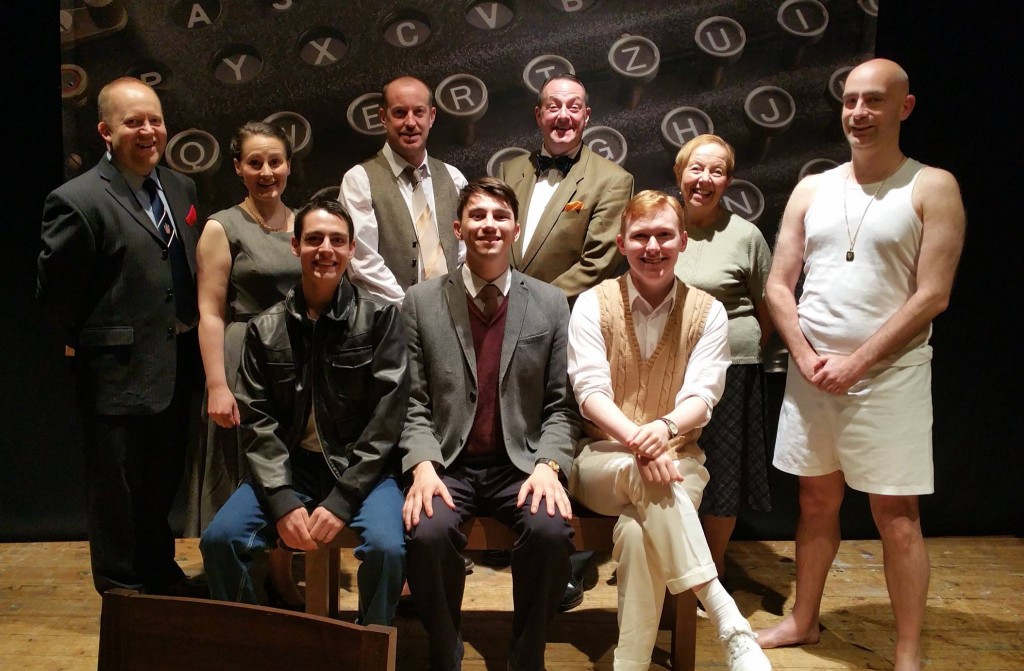 ---
Spring 2015 – California Suite by Neil Simon
Director: Lindsay Kennedy
Neil Simon's hilarious comedy tells four different tales in one hotel room. It premiered in Los Angeles in 1976 & was later filmed by director Herbert Ross. The cast included Maggie Smith who ironically won an Oscar for her performance playing an actress who is nominated for, but does not win.
---
Autumn 2014 – The Accrington Pals by Peter Whelan
Director: Dean Laccohee
Peter Whelan's moving & powerful play is set in Accrington during the early years of World War One. It tells the story of the young men who enlisted to fight on the front line in France and the women they left behind to face a country in the midst of great social change.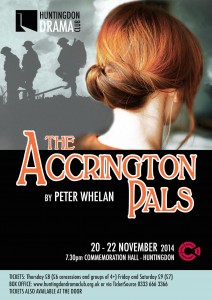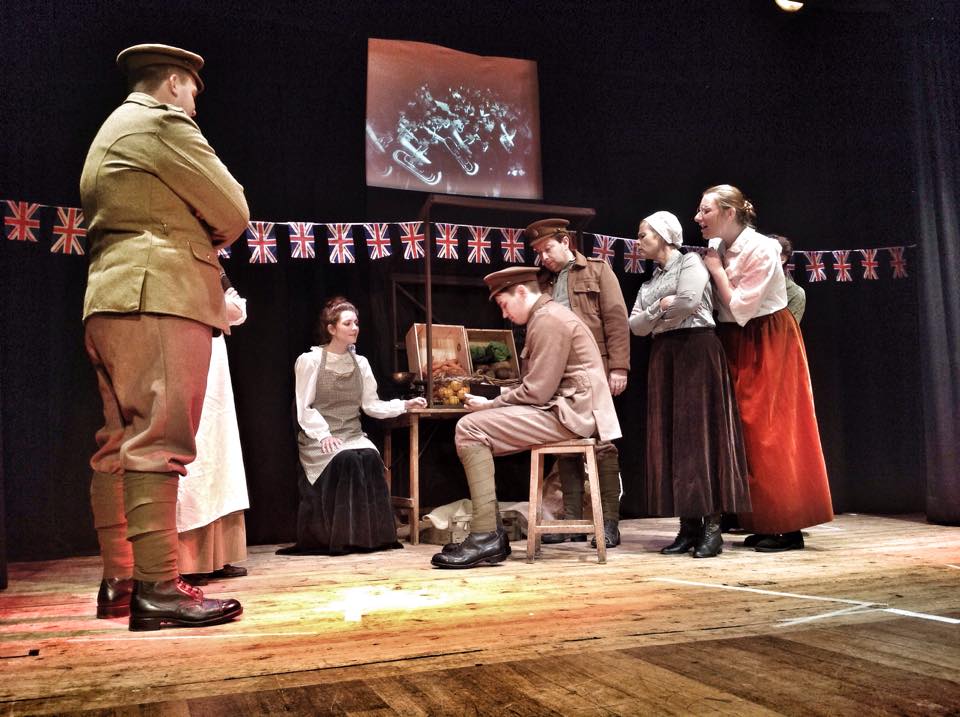 ---
Spring 2014 – Habeas Corpus by Alan Bennett

Director: Steph Hamer
Musical Director: Roy Bellass
Download programme here.
Alan Bennett's first play, is a comedy set in Brighton in the 1960s. Here the lust and longing of the permissive society has well and truly taken hold of the apparently respectable Wicksteed family. With a succession of characters ranging from a rampant doctor and a randy vicar to a frustrated flat-chested spinster and a baffled domestic cleaner, this rollicking farce is as saucy and English as a seaside postcard…
HCRfm radio interview for Habeas Corpus
---
---
---
SaveSave
SaveSave
SaveSave
SaveSave