Investment in the future has been a theme of 2017 so far for the club. After being forced from our 'home' by the closure of the Commemoration Hall we've been set the challenge of being more creative than ever – mounting productions in non-theatre venues such as Shakers and The Crucible which will take place in the Town Hall. A very generous grant from the Huntingdon Freemen's Trust has allowed us to invest in a brand new portable lighting rig which will ensure that we can be seen wherever we perform! We're now looking ahead to 2018 for venues and plays.
Earlier this year we sponsored committee member Rae to attend the RSC's Big Backstage Weekend (which you can read about here on our blog) and this week I spent a day at London's Lyceum Theatre for a directors workshop with Lisa Spirling – artistic director of Theatre 503 in Battersea. The aim of these two ventures was to learn from the professionals – to develop new skills and techniques that we can use to improve our own productions. Rather than go into too much detail here I'll try instead to give a flavour of the day & hopefully adapt some of it into a future workshop of our own.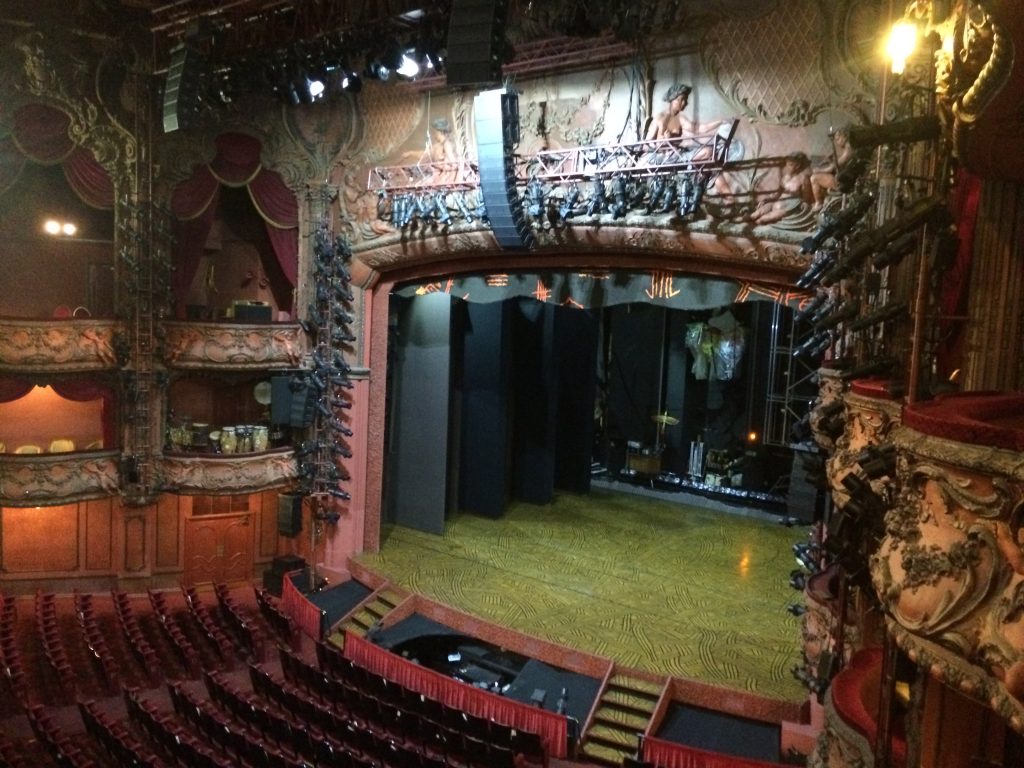 As we sat in the swanky Ambassador's Lounge waiting for some late-comers held up on the Tube, Lisa decided to take us through for a quick look into the Lyceum's stunning auditorium – the home of the long-running 'The Lion King'. Lisa mentioned two things here that would later resonate during the workshop. The first involved the dreaded subject of blocking – actors who join the cast of The Lion King are subject to what sounds like a human game of chess or Battleship. There are so many moving parts in the show that the stage is divided into a grid system – if an actor stands in A6 as opposed to A5 he may be run over by a scenery truck. Less rigorous blocking methods would be discussed later. Second point on The Lion King – a big part of it's success was down to it's theatrical language. The director decided against simply carbon-copying the animated movie onto the stage and instead delivered a piece of total theatre that still plays to packed houses eighteen years on.
Back down to earth. Why were we there? What did we want to get out of this day? We started with some very basic but important considerations – who is your audience? How big is your venue? What's the size of your cast? From here we moved to choosing a play and once it's chosen, how do you prepare to direct it? Several readings of the play are essential – an initial reading to discover the story and further readings from the points of view of the characters. Asking questions of the play is crucial – who, what, where, why & how? One of the key things in any play is – does it make you want to find out what happens next??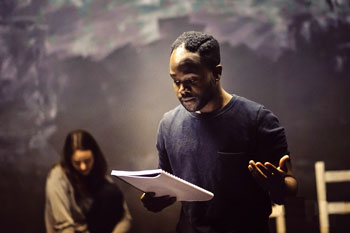 This discovery of the play continues into the first days of rehearsal with the cast. Rather than just a straightforward table reading, the cast & crew read through the text, fine-combing it for FACTS, OPINIONS & QUESTIONS. This approach ensures that everyone is equally familiar with the script & has an equal understanding of it. During a read through of our current production of Shakers we discovered that our four cast members had no clue who Alan Whicker was – they do now!
Up on our feet we played around with a series of 'push & pull' excercises, designed to inject a physical intention into the lines. Lisa explained that dialogue is never just people talking – in every scene there are WANTS and INTENTIONS. (Remember the old adage "what's my motivation"?)
We continued with a 'thought through' reading of a scene. In this, the actors must vocalise the thought that motivates each line and then speak the line. Another approach is an 'action through' or 'tactic through'. This concentrates on the doing words, the actions in a scene that motivate the words. This forensic analysis allows the cast & director to really get under the skin of the text for a greater understanding. As amateur theatre people we may feel that we don't have the luxury of time for this kind of work but I felt that two rehearsal sessions dissecting the text in this way would pay big dividends later on in the process.
We approached the subject of 'blocking' with some caution. It seems to be a real hot potato, both in the amateur & professional worlds. In Nick Hytner's book 'Balancing Acts' he mentions renowned stage actors who were often relieved to work with directors who literally told them where to stand, where to sit and when to speak. Others like to find their own way. Ultimately it's a case of 'horses for courses' – whatever works for the truth of the moment – as a director you must create the best possible environment for the actors to work in.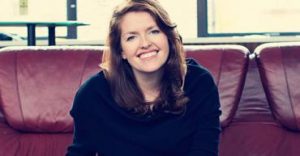 Lisa mentioned two things that must ALWAYS be choreographed – sexual or romantic scenes (snogging, basically) and stage combat. Those two things are never left to chance. Other tips Lisa mentioned for blocking included putting something interesting on the fourth wall (a mirror, a window…), working actors into diagonal rather than straight lines and something which had never ever occurred to me before – because we are used to reading from left to right on the page, entrances from stage right have more visual impact than stage left. It's true what they say – every day's a school day.
For me directing becomes more and more enjoyable the more experience you have of doing it. As you find your style & become more familiar with the rudiments, your confidence grows and with that your imagination has more freedom to be creative. It's a passion that you never stop learning from and this day was invaluable. Thank you to Lisa Spirling & to Ambassador Theatre Group for the opportunity!