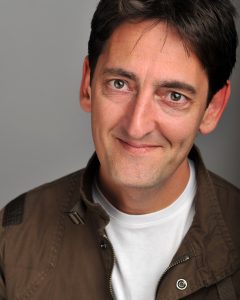 We caught up with professional actor & playwright Richard James to find out what life is like on the road. Richard is currently touring in the stage adaptation of David Walliams' Gangsta Granny and while at home for a well-earned Christmas break took some time out to talk to us…
How long have you been touring with Gangsta Granny now and how many performances have you done?
Gangsta Granny has been on the road since November 2015. Touring to a different town each week, we've played 416 performances in 46 different venues. By the time we finish in the West End next year, we will have performed the show over 650 times.
Have you missed any performances for any reason?
Whilst other cast members ha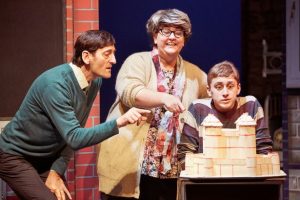 ve been off with various illnesses over that time, I'm lucky enough not to have missed a single show so far.
Of all the theatres you've played in so far, do you have a favourite? And if so, why?
Touring can be quite monotonous, especially with two shows a day, so any venue or town with something different to offer is always welcome. I particularly enjoy towns with a bit of history to them so I think Canterbury would be a firm favourite. I also enjoy seaside venues and Bournemouth in the summer was fun. Whilst we may not have a great deal of time to explore, it's sometimes worth the effort to travel a little further afield if possible. With an evening show on our first day in Belfast, a number of us hired a car and drove to the Giant's Causeway for the afternoon.
Can you give us an idea of what a typical day on Gangsta Granny is like? And how do you fill the time between shows?
A typical day would start with the cast and crew assembling on stage at 9.30am for notes and warm-up. Then it's into costume for our first show of the day, usually at 10.30. This is typically a school's matinee so the curtain often rises late as we wait for coaches to arrive. Morning shows often have a very different feel to evening performances as we could find ourselves performing to a thousand lively school children. The curtain comes down at around 12.45, and it's time to head out to the High Street for some lunch. Following this, I might try and get some writing done (I've almost completed my third play this year), catch up on some correspondence, do a little sightseeing or join with some cast members to catch up on some TV together. At 7pm the curtain rises on the second show of the day followed by a bus home to my digs or a quick drink in a local bar.
Do you still have to rehearse at all or does the show look after itself now?
The show looks after itself in the main. We may run a couple of sequences as we arrive at each new venue as the dimensions of the stage or wing space may alter slightly but there is no 'tech run' as such. In addition to this, we have understudy rehearsals each week, usually on a Friday. This in effect means we are doing three shows one after the after, making for a very tiring day!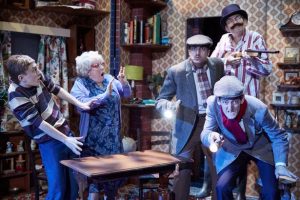 Of all your professional engagements, which is the most memorable and why?
I'm lucky enough to have worked on a variety of projects, from tv and film to theatre and radio. I've worked with some heroes along the way too, whether it be on a Doctor Who adventure with Peter Davison or with Burt Reynolds on a movie. I was lucky enough to have some scenes with Helena Bonham Carter on a film version of Great Expectations and I learned a lot from watching her work. I suppose my most formative experience was spending a year under prosthetic makeup to play an alien police officer in Gerry Anderson's last live-action sci-fi series, Space Precinct.
You started off in amateur dramatics, would you say that it's a good starting place for someone interested in theatre as a career?
I have never been as busy as when I was an amateur actor! As a man on the amdram circuit you are always in demand and I remember going from production to production. In one year I might have appeared in productions with SIMADS, Huntingdon Drama Club, Brampton Park Theatre Club and Shakespeare at the George. As a professional actor, work is much harder to come by as the talent pool is so much larger. I found my experiences in amateur theatre to be invaluable. It allowed me to grow as a young actor and improve my stage craft. As a company member it is imperative that you do the work with a professional attitude, that you are disciplined in your approach and do your best to get on with those around you – particularly if you're on the road with them for the best part of two years!
Find out more about Richard's work by visiting his website www.richardjamesonline.com  and follow him on Twitter @RichardNJames
Find out more about the Gangsta Granny tour here.