When Outside Edge was announced as the club's winter production, I initially didn't give much consideration to the fact that the play revolved around a sports setting. If the cricket pavilion environment inspired any thoughts at all, it was mainly at how quaintly and typically English it was; all public school alumni and afternoon teas. But reflecting on the matter, I ended up asking myself how many plays I had seen, read, or even heard of, that contained some kind of sports theme. The answer was not very many. Outside Edge, it seemed, was one of a very small group.
Sport in theatre is not exactly unheard of – a recent example is Patrick Marber's The Red Lion, a tale about a little-known, semi-professional football team. Other examples include The Changing Room by David Storey, and An Evening with Gary Lineker. From the other side of the pond, we have Richard Greenberg's Take Me Out, most of which takes place in the locker room of a baseball team. That said, given the prestige it carries in society, the topic of sport appears to be very underrepresented within theatre. Film and television certainly cater to the subject of sport; of the movies I watched in my early years, one was a rather stock tale about a hapless baseball team that finally wins their season. So it's interesting to ponder what sets theatre apart in this regard: what are the reasons for the relative segregation of athletics and stage plays? One cause may simply be the domain itself; logistically speaking, a theatre is hardly a favourable medium to stage scenes of football or rugby matches. How long before an unlucky audience member would be struck in the face by a flying tennis ball? One can always get around this, however, by eliminating from the narrative any episodes of actual sports activity. This, incidentally, is how Richard Harris has handled Outside Edge; all cricket action takes place offstage and is merely referred to by the characters.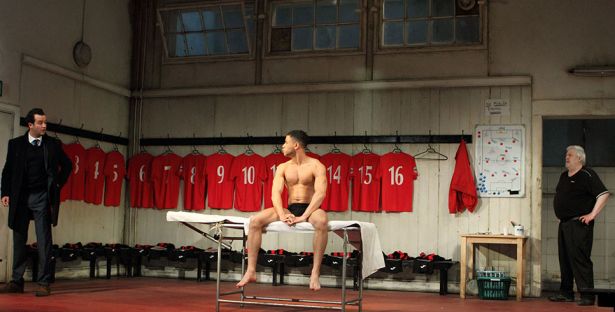 Is there an element of cultural snobbery at play? Do some theatre aficionados regard sports as a lowbrow pastime and deem there to be such an insurmountable contrast between the two fields that any mingling of the subjects is taboo? An article in American Theatre Magazine challenges such a stereotype, arguing that:
"The athletic and dramatic spheres have more in common than at first glance. Both thrive on spectacle and conflict—the more that is at stake, the better… the human stories in the athletic arena hold as much artistic fodder for playwrights as for screenwriters, TV scribes and sports columnists… both plays and sports are man-made imitations of conflict, drama and competition performed in sacred spaces throughout the world." It's a view that is shared by playwright, screenwriter and basketball enthusiast Robert Attenweiler, who once described watching NBA player Michael Jordan as "Aristotelian drama", adding that "Dynasties in sports are Aristotelian tragedy." People might quibble over his precise terminology, but it's quite eye-opening to explore what common ground sports and theatre really do have. Both can serve their viewers alternately as entertainment or profound emotional experiences. Both can ignite in their audiences a shift in consciousness, a portal to one specific stage (or football field) and an atmosphere in which anything happening outside this space is obsolete and ignored.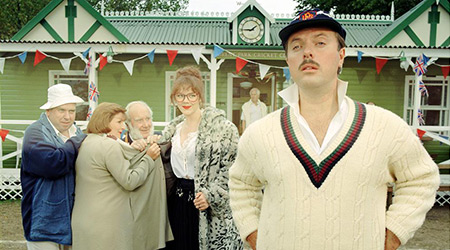 Perhaps the most touching perspective was that of actor Paden Fallis, whose reflections covered the shared catharsis of sports and drama: "Both offer hope, exhilaration, escape from the mundane, the chance to witness greatness, talented people creating beauty with the greatness of ease. And both sports and theatre get us back in touch with what it means to feel, to rejoice, to love."
by Guest Blogger Michelle Gibson