We recently caught up with Richard Brown who has adapted the five short plays by Anton Chekhov that we will be presenting in May 2022 as Five Farces.
HDC: Richard – it's fair to say you're a bit of a renaissance man! Directing, acting, writing and of course chairman of Shakespeare at The George. How did you first get involved with drama & when did you start acting & directing here in Huntingdon?
RB: I was first exposed to drama at Cambridge University where I joined the Footlights Club, but not as a performer more as a film maker. My ability at acting was simply dreadful! However, afterwards, Sue Limb, now author & radio broadcaster, took pity on me and offered me a part in A Midsummer Night's Dream and off I went into a world of over-acting from which I probably have yet to emerge. In Cambridge I acted regularly for Combined Actors (for whom I was Chairman on several occasions) and BAWDS. Roz and I then moved to Godmanchester in 2004 and I managed to grab a part in the 2005 production of Much Ado About Nothing at The George. This wonderful company has rather become my theatrical home ever since, as actor, director and Chairman. However Shakespeare is not my be-all and end-all and I have enjoyed being part of the Brampton Park Theatre Club and of course working with the Club on A Bunch of Amateurs in 2018.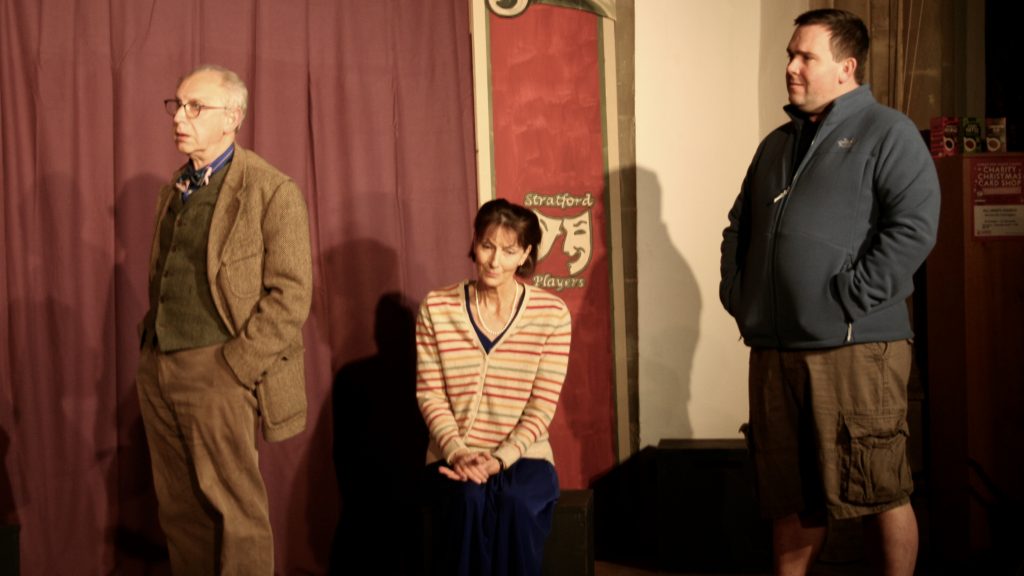 HDC: Your adaptation of Chekhov's Five Farces was originally performed at Brampton Park Theatre Club. What drew you to these plays (one of which I believe the author never finished?) and how did you go about adapting them?
RB: I was introduced to them by my father, who arranged a production of several of the farces for Combined Actors of Cambridge. They were such an enjoyable treat that they stuck in my mind as potential for another airing, achieved ten years ago for the Brampton Park Theatre Club. However, although designed as quick-witted farces, the 19th Century world of Chekhov saw comedy in a very different way to ourselves who have been brought up with the pace and rhythm of television sketches. I therefore wanted to experiment in a much less literal adaptation than the traditional ones, to use the basic themes of the sketches but freely adapt them to tune to a modern ear, brought up on Fawlty Towers, Morecambe & Wise, The Two Ronnies, etc. This allowed some bonuses for me, such as changing the sex of characters to allow a wider variety of female roles, and, yes, cheekily taking on the challenge of completing The Night Before The Trial (which Chekhov abandoned after setting up the characters). My favourite alteration has to be Swan Song, originally a slightly heavy duologue between an elderly actor and his male prompt, into a wistful aged story of unrequited love.
HDC: Do you go and see a lot of professional theatre? Is there anything from that world that you've found particularly inspiring for your own work?
RB: I don't go and see as much as I should! In fact I like "making" theatre more than necessarily going to see it (when I do go, I am always angry at myself for not seeing more). Much of the stuff that should have inspired me I never saw, beginning with Peter Brook's A Midsummer Night's Dream. Instead I fell head over heels for his great written essay The Empty Stage, and that formed my manual for directing theatre. I think my love is finding ways to tell stories. I have quite a low boredom threshold so I always want things to be exciting and challenging. One of the great turning points for me was when the French Cultural Attaché asked us in Cambridge to celebrate the bi-centenary of the French Revolution by producing a version of a little-known French play called 1789 – a telling of the early days of the Revolution using jugglers, puppets, multiple stages and more adrenaline than you could fit into the warehouse of a theatre they used. Despite the fact that no printed script existed, we were shown a film of the original production and set to re-inventing it and re-writing it. It was a wonderful experience of unadulterated freedom of ideas to entertain which has stuck with me since. This thing about amateur and professional theatre came to a head some years ago when Shakespeare at The George joined an Open Stages experiment provided by the Royal Shakespeare Company, a way of us sharing their professional techniques and they our amateur enthusiasm. It resulted in my being able to play Shylock in a short extract from a production of The Merchant of Venice directed by Jacqueline Spencer (who, I am delighted to say, is organising & directing these Farces) at both the Swan Stage and the main stage at the RSC. The very strong conclusion of the experiment was just how similar the amateur & professional world can be.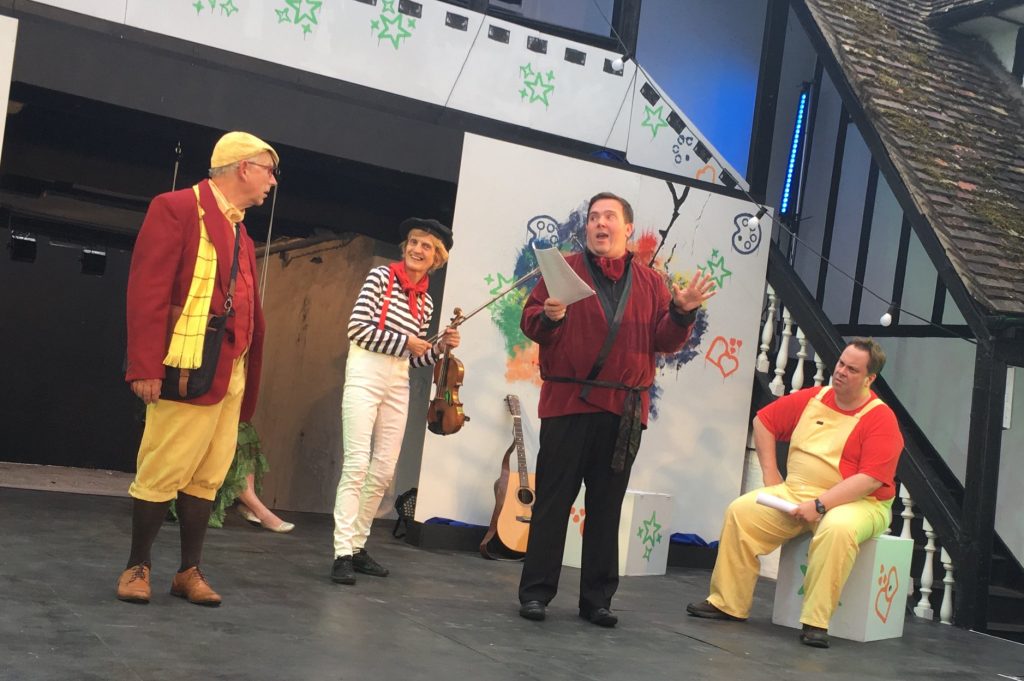 HDC: You directed Pericles in 2017 for SaTG – a Shakespeare play that perhaps isn't so familiar. What prompted you to choose that one?
RB: Well, in the first place, the fact that it wasn't so familiar. I love reading plays on holiday. Either I read a few pages only or I get transported. I took Pericles to Sicily and fell in love with it. It was a rather magical telling of stories that more appropriately lie in the realm of fairy tales. It was also a play I could fiddle with! I know critics regard it as a lesser play for its language, but the audience loved the magic of it and I loved the invention it required to be produced.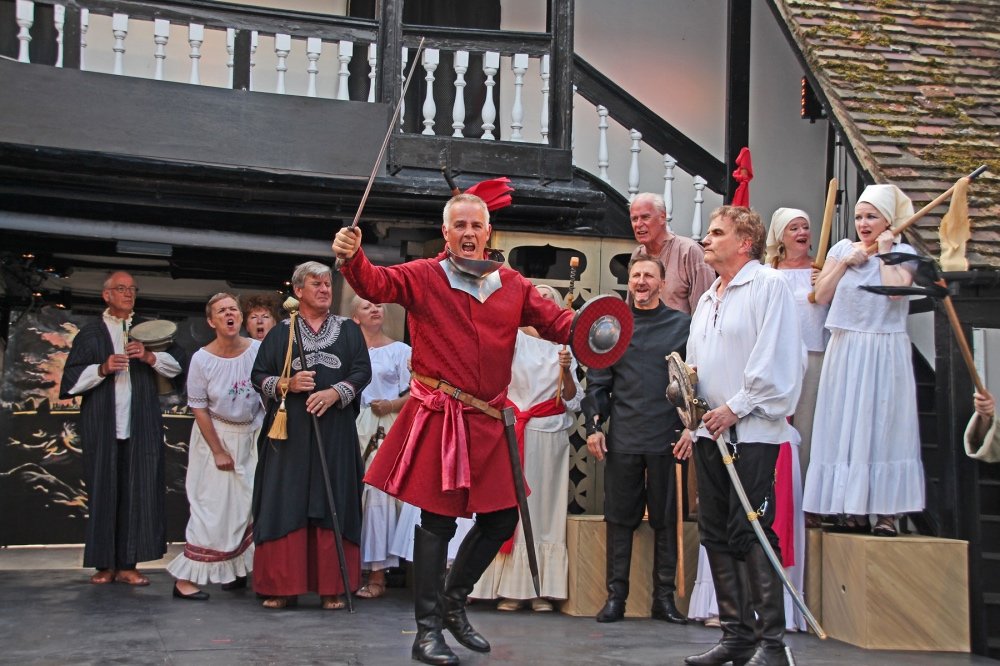 HDC: If you could direct one play with any group of actors, past or present, what would it be, where would you stage it and who would be in your cast??
RB: I think I might just duck this one! If I had the ideal cast in the ideal play, at the ideal location, my contribution would undoubtedly be to bugger it all up! My greatest happiness in directing has always been to work on what looks to be problematical material with a cast more full of commitment than necessarily top talent. Having said that, if Lin Manuel Miranda was stuck in Huntingdon with nothing to do, I might just try to squeeze him into some modest role… I also once acted alongside Tom Hiddleston and I would happily give it a go again.
HDC: And finally – tell us why we should book tickets for Five Farces??!
RB: Because we all desperately need cheering up! It is a perfect set of plays for just sitting back, relaxing and laughing at absurd characters in impossible situations. With the talent available both in my fellow directors and the actors performing with Huntingdon Drama Club, you really are in safe hands, so forget Omicron or the on-going adventures at Downing Street and instead indulge in this rather naughty delight.