Never a group to rest on our laurels, it didn't take us long to spring straight back into preparations for the club's summer production, Shelagh Stephenson's 'The Memory of Water'. Those of us that had acted in 'The Madness of George III' found ourselves returning to our regular rehearsal space just two weeks after having said goodbye to it – and once again we made a beautiful job of transforming Tesco Community Room into a cocoon of creativity.
After the challenge of a twenty-five strong cast, 'The Memory of Water' is more of a return to form, as this time we shoot down to six roles. The play is heavier on the female side – four of the characters comprising a mother and three sisters – so we hopefully anticipated a large turnout of women – and we weren't disappointed.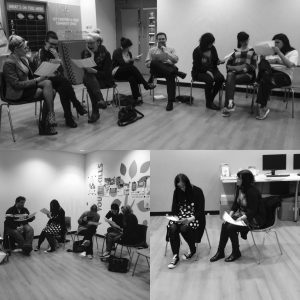 Indeed, we were delighted to be greeted with both old friends and new faces. While waiting to officially begin proceedings, we had time to reminisce with those we knew and become acquainted with people we were meeting for the first time. Despite having previous HDC productions under my belt, I typically find audition-time to be rather like the first day of school – i.e. an amalgamation of eagerness and curiosity with a small dose of nervousness added to the mix. As someone who hasn't read the play, I was mentally turning over various questions – who are the characters? What are their relationships? What fresh new talent do we have? How is this going to pan out?
Any nervousness that anyone might have felt was soon allayed by Josephine, who introduced us to the basics of the piece by giving a solid background to the play and the characters. You wouldn't know this is Jo's first venture into directing; she had the straightforwardness and encouraging demeanour of someone who has done this dozens of times before.
Nor was she let down in terms of casting; as auditions got underway, it soon became apparent that when it comes to talented actors, she has an embarrassment of riches on her hands. She has a fine pool of women to choose from, along with enthusiastic performances from the men in attendance. The entire audition procedure was both enjoyable and thrilling – though, being the quiet, polite soul that I am, the highlight for me may have been a scene in which I was able to raise my voice and curse another character out.
An excellent start to the process of 'The Memory of Water' – I'm sure that's a portent of good things to come!
by Guest Blogger Michelle Gibson. 'The Memory of Water' runs from July 21st to 23rd. Tickets on sale now.
It's been quite a year for the club – one that has taken us from a Beverley Hills hotel room (California Suite) to a seemingly cosy, quiet patch of 'Little Britain' (Neighbourhood Watch) via the pre-fabricated, industrious huts of Bletchley Park (Breaking The Code). Ticket sales this year have increased with every production and our Autumn show smashed through that magic number of 300 in online sales alone.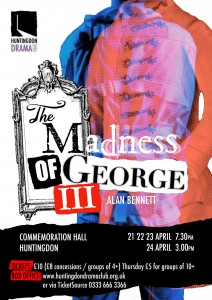 Now we want to take this momentum through to 2016 where two of our three plays are already in place – Mark Hebert will direct 'The Madness of George III' by Alan Bennett which will be our Spring production & for our summer show Josephine Hussey will make her directorial debut with 'The Memory Of Water' by Shelagh Stephenson. The autumn play will also be announced in the very near future & a director is already lined up to take charge of that one. In April I'll be taking all three of our directors to a workshop at the Donmar Warehouse in London, where we'll find out how the professionals run a rehearsal room.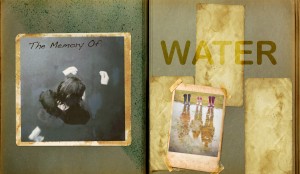 The success of 'Breaking The Code' in July proved that there is an audience here in Huntingdon with an appetite for challenging theatre, who are prepared to take a risk and try something a little different from the norm. We have taken this on board, whilst always remembering that first & foremost we are here to entertain and that a night at the theatre should be interesting, thought-provoking & stimulating but most of all enjoyable. Our 2016 season will provide all those things.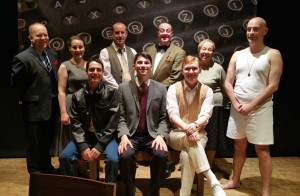 Another very exciting project in 2016 will see us performing at the Cambridge Drama Festival in April. It will be a great opportunity & challenge for our cast & crew to perform in a new venue, to a wholly different audience. With our increasing ticket sales we are also adding matinee performances next year. We think the added choice of a daytime performance will be popular with local community members and it also offers our cast an extra performance. Many a time have I heard the comment "three performances just aren't enough"!
So, lots to look forward to in both the immediate and long term future. Auditions for the Spring play are in January and you can find more info here. On the social front we are heading to Milton Keynes in February to see our good friend Richard James in the touring production of David Walliams' 'Gangsta Granny'. For now, have a wonderful Christmas & here's to the 'madness' in 2016!