Since Mischief Theatre's rise to prominence with The Play that Goes Wrong, the company has been soundly riding the wave of success. Two further plays – Peter Pan Goes Wrong and The Comedy About a Bank Robbery have helped cement the group of LAMDA graduates as a fixture in the current West End and dispelled any suggestion that they might have been a flash in the pan.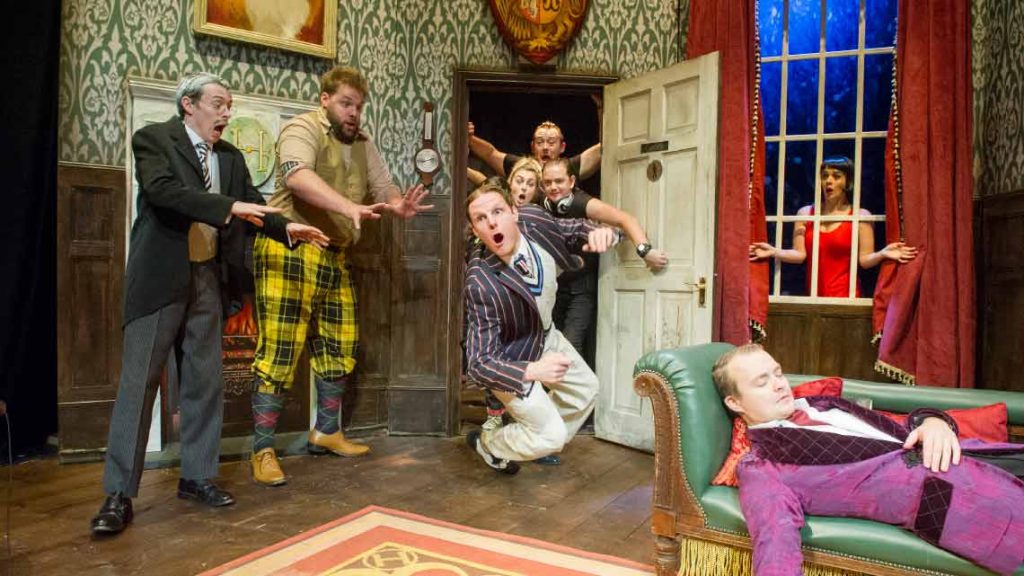 My first exposure to Mischief Theatre was on a club trip to see The Play that Goes Wrong in February 2015. Delighted with the non-stop hilarity, chaos and robust youthful energy, I insisted that my friend (who had at that point never been to a theatre in his life) accompany me to see it again. It might be a tad excessive to say that I pinioned his arms and frogmarched him into his seat, but 'fan' is abbreviated from 'fanatic', after all, and I'm sure my cajoling at times took on the tenor of an Evangelical preacher. (As it happens, the friend in question is glad that I got him to go.)
So I already had an idea of what to expect when I went to see The Comedy About a Bank Robbery last month. Although I anticipated a great show, I had to brush back the niggling concerns that I think we all experience when returning to the work of any kind of artist – "what if they're not as good this time?", etc.
Any vague doubts I might have had were groundless. The Mischief Theatre actors exploded into action with a verve that I'd been looking forward to. The play charges forward at such a frenetic pace that it can be hard to keep up with every single bit of action (part of the joy of such plays is that you're sure to spot new things upon a second or even third viewing) but the story introduces us to a the eccentric staff of a Minnesota bank (upon which is soon to bestowed a priceless diamond) and the efforts of a jail-busting bunch of ne'er'-do-wells to execute a robbery (one of whom happens to be the daughter of the bank manager.) Also in the mix is the neighbourhood's conman/petty thief who begins a relationship with aforementioned daughter, which leads to him being dragged into the diamond-snatching escapade.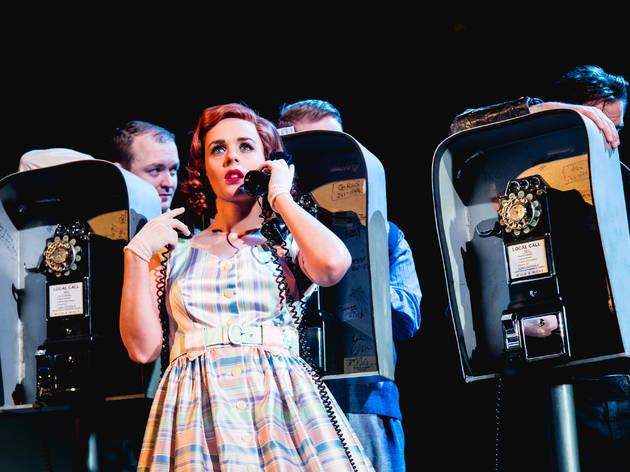 The Comedy about a Bank Robbery is a ridiculous farce through and through, delivered with all the outrageousness that I'd seen in The Play That Goes Wrong. For me, particular scenes of note included a Fawlty Towers-esque sequence in which Sam Monaghan (impersonating Mr Freeboys) is forced to stumblingly deliver a potted history of Freeboys' life, based upon his attempts to read the miming of Caprice. Later in the play, there are no fewer than three Freeboys (minor tongue twister there) – the real one and two impostors – whose multiple run-ins with the police officer and fellow bank staff are a source of much confusion and amusement. There is also a clever segment in which Freeboys and his lackey Warren are conversing in an office – suspended sideways on the wall, allowing the audience a bird's-eye-view of the scene.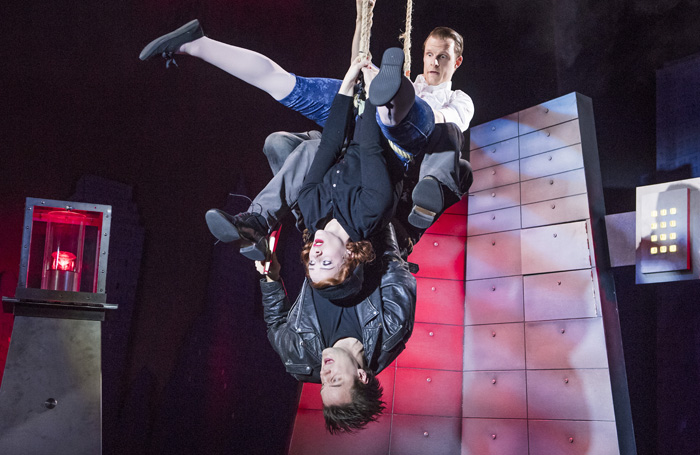 Performances were strong all around, but two that I especially favoured were Sean Kearns as the greedy, self-important bank manager and Tania Mathurin as Ruth Monaghan. Kearns seemed to fairly revel in his role as he barked orders at staff, butted heads with his daughter's boyfriend and screamed and stomped his way around the stage in a verbal to-and-fro with Officer Shuck. Mathurin at first added a more low-key humorous warmth to the show, but as time stretched on, revealed her character to be just as conniving and corrupt as everybody else. Adding to the show's charm was the interspersing of short doo-wop songs (performed by the cast) between scenes – matching the time-period of the play, which is set in 1958. Above all, just as with The Play That Goes Wrong, you knew that the cast were having the time of their lives, and their exhilaration and glee spread like a welcome virus through the audience.
If this hasn't yet convinced you, I'll leave the final word with theatre critic Dominic Cavendish, who failed to be impressed by Mischief Theatre's first effort and declared The Play That Goes Wrong to be one of the "worst shows of 2014." After reluctantly allowing them a second chance, Cavendish emerged from The Comedy About a Bank Robbery with an entirely new outlook. "This is the funniest show in town," he raved, as though apologetic for his earlier dismissal of Mischief Theatre's abilities. "The jokes, visual and verbal, are piled skyscraper high…there's such youthful relish to the playing and so much surrounding theatrical invention that even the hoariest gag earns its keep."
Glad you finally came around, Mr Cavendish – what took you so long?
By Guest Blogger Michelle Gibson